The Velez Sarsfield vs Iquique Copa Libertadores 2013 match will be this Wednesday, February 20, 2013 (2:45 PM Pacific) at the Estadio José Amalfitani in Buenos Aires. Both teams lost their opening matches in this edition of the Copa Libertadores, and are looking to bounce back with a win.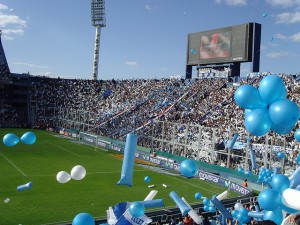 Velez Sarsfield is the defending Argentine league champion, and is thus labeled as one of the teams with a decent shot at making a deep run in the Copa Libertadores. However, Velez had a bad start when they lost at Ecuador against Emelec 1-0. They followed that loss with another loss in the Argentine league, a 1-0 home loss against Independiente.
Any team that plans on advancing in the Copa Libertadores must win at home. Velez will attempt to do this against Iquique, the Chilean squad that appears to be the weakest in the group. However, Velez will be missing 3 starters, Fernando Tobio (red card), Facundo Ferreyra (injured), and Juan Sabia (fatigue). Does Velez have what it takes to defeat Iquique?
Iquique also started off the Copa Libertadores with a loss, they were defeated at home 2-1 by Peñarol of Uruguay. The home loss is a huge deal in the Copa Libertadores, it means you must make up the points in an away game. This is quite a difficult task, due to the travel, hostile crowds, and intensity of the matches. Furthermore, Iquique lost in the Chilean league 1-0 against Deportes La Calera, making it 2 losses in a row for them.
Velez Sarsfield vs Iquique Prediction
Both teams lost their first game by a 1 goal margin, the key difference is that Iquique lost at home, dealing a huge blow to their qualifying chances. Velez is the Argentinian champion, and they will play with great intensity to get the win in front of their rowdy Buenos Aires fans. Iquique needs at least a point, and will likely set up in a defensive formation. In the end,  the Velez Sarsfield vs Iquique match will end in a 2-0 victory for the Buenos Aires based team- Iquique will be left on the edge of elimination.
 Velez Sarsfield vs Iquique Television
The Velez Sarsfield vs Iquique 2013 match will be televised Live this Wednesday, February 20, 2013 on Fox Deportes at 2:45 PM Pacific.