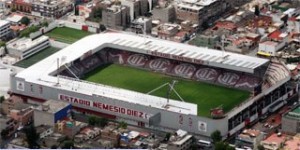 View the Toluca 2-3 Nacional highlights here.
The Toluca vs Nacional Copa Libertadores 2013 match will be this Tuesday, February 19, 2013 (9:45 PM EDT) at the Estadio Nemesio Diez in Mexico.  Toluca (MEX) and Nacional (URU) will play their second game during the group stages of the Copa Libertadores 2013.  They are part of Group 1 which also includes Boca Juniors (ARG) and Barcelona (ECU); the top two teams will advance to the final-16.
Toluca began the Liga MX season on a wrong note, and after 7 weeks they are still one of the league's lowest seeded wins.  However, all that may change soon after the win last week in Buenos Aires when they defeated Boca Juniors, and this weekend when they tied Club America 2-2.  On Tuesday they face Nacional of Montevideo who tied their first game against Barcelona of Ecuador.  Toluca has the talent, form, and home advantage to obtain the win and take possession of Group 1.
Nacional has several veteran stars in its squad; 2 missed the trip to Mexico while one carries with him a bit of controversy.  Veteran strikers Alvaro Recoba and Sebastian Abreu are out of this match due to injuries, while Ivan Alonso returns to play against his ex-team.  Alonso is part of the ongoing controversy in which he had to stop playing for Toluca because he was diagnosed with a heart arrhythmia.  The controversial aspect of this is that he left Toluca due to the city's high altitude saying it could affect his heart; he is expected to be a starter at the Nemesio Diez on Tuesday.
Toluca vs Nacional Prediction
This is a match with a lot of controversy due to the presence of ex-Toluca star Ivan Alonso.  With this in mind, plus the significance of a Toluca win, the home fans will be as loud as ever giving us the viewers a great game to watch.  Two talented squads, but today the Liga MX is a superior league and that will be shown on Tuesday night.  The Toluca vs Nacional match will end 2-0 in favor of the home team.
Toluca vs Nacional Television
The Toluca vs Nacional 2013 match will be televised LIVE this Tuesday, February 19, 2013 on Fox Deportes at 9:45 PM Eastern.