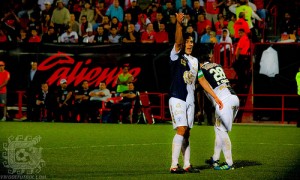 The Numbers:
 Week 7 of the Clausura 2013 of the Liga MX had a total of 9 games; 5 wins and 4 ties.  There were a total of only 21 goals, which translates to an average of 2.3 goals per game.  Six teams scored 2 goals, while Jaguares, Leon, and Pumas did not receive any.
Players of the Week by Position:
Goalkeeper – Victor Hugo Hernandez faced his ex-team Chivas this weekend, and he faced them on a high-note.  There weren't many outstanding goalkeeper performances this week, but Hernandez made several fine saves to allow his team to earn a 1-1 tie in what has been a memorable season for Puebla.
Defender – Dario Veron from Pumas was phenomenal in the backline for his team's 1-0 victory over Morelia.  Veron was crucial in preventing the opponents from making any clear attacks, and most impressively he forced the opponent to one 1 shot on goal.
Midfielder –  Hector Herrera did not score, nor was he present in the scoring plays for his team.  But his presence, talent, and quality have exploded this season, and that has been crucial in Pachuca's recent success.  Against Cruz Azul, Herrera gave his usual performance in which he never stops running up-and-down the field, he is part of almost every play, and he gives the midfield the balance and speed needed for the win.
Forward – Luis Gabriel Rey has weeks in which one doubts if he really is 32.  The forward does not stop scoring season-after-season, and last Friday he scored the 2 goals in the win against Xolos.  His goals allowed Jaguares to win their first game of the season and to give the reigning champs their 2nd loss in a row.
Best Player of the Week:
Week 7 in the Clausura 2013 of the Liga MX was a week filled with outstanding goals, and good midfields.  It was also a week in which the top teams did not win, giving the title of best player of the week to a player in a lower seeded team.  Striker Luis Gabriel Rey was fantastic in Jaguares's win over Xolos.  He scored the goals in the 2-0 win which gave Chiapas its first win of the season.  He was also an important figure in the counter-attack giving many plays to his partner Franco Arizala.
Team of the Week:
Jaguares and Leon finally won their first match of the season.  Leon won 2-0 against the league's worst team San Luis, while Jaguares defeated the reigning champs also 2-0.  However, the best team of the week goes to Pachuca who defeated an extremely difficult Cruz Azul at the Estadio Hidalgo.  Pachuca has shown that they have a very tough midfield lead by Hector Herrera, but also, they have one of the league's best defenses as they have only received 6 goals in 7 games.  The 'tuzos' have won 3 games in a row a currently stand in 5th place with 13 points.  If they keep playing like they did against Cruz Azul, this is a team that will be in the playoffs and who could be fighting for a title.