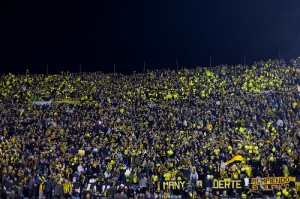 The Peñarol vs Emelec Copa Libertadores 2013 match will be this Tuesday, February 19, 2013 (5:15 PM EDT) at the Estadio Centenario in Uruguay.  Peñarol (URU) and Emelec (ECU) will play their second game during the group stages of the Copa Libertadores 2013.  They are part of Group 4 which also includes Deportes Iquique (CHI) and Velez Sarsfield (ARG); the top two teams will advance to the final-16.
Peñarol may not play in one of the most competitive leagues of the continent, nor do they have one of the top talents in the Copa Libertadores.  One thing Peñarol does have is its history and success in international tournaments, and last week they used that experience to earn their first 3 points when they defeated Iquique.  Peñarol now travels home to try to earn another 3 points and enlarge their history with another successful Libertadores.
As Peñarol, Emelec played a good first round last week when they defeated group favorite Velez Sarsfield 1-0.  On Tuesday they have a hard challenge because they travel to Montevideo's always difficult stadium, the Centenario.  If they are capable of leaving with at least a point, it will indicate that Emelec is a serious contender to access the next round.
Peñarol vs Emelec Prediction
Both teams won their first game by a margin of 1 goal; the only difference is that Peñarol won on the road.  This will be a very good game to follow because these are two squads which could lead the group, therefore, Tuesday's game will serve as a parameter to know where they stand.  The Peñarol vs Emelec match will end 1-0 in favor of the home team.
 Peñarol vs Emelec Television
The Peñarol vs Emelec 2013 match will be televised DELAYED this Wednesday, February 20, 2013 on Fox Deportes at 2:00 AM Eastern.  Original game is on Tuesday at 5:15 PM.