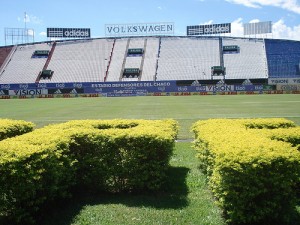 The Olimpia vs Universidad de Chile Copa Libertadores 2013 match will be this Tuesday, February 19, 2013 (7:30 PM EDT) at the Estadio Defensores del Chaco in Paraguay.  Olimpia (PAR) and Universidad de Chile (CHI) will play their second game during the group stages of the Copa Libertadores 2013.  They are part of Group 7 which also includes Newell's Old Boys (ARG) and Deportivo Lara (VEN); the top two teams will advance to the final-16.
In the first week of Copa Libertadores, Olimpia from Asuncion lost against Newell's Old Boys 3-1.  In that game they played well during the first half, but throughout the second they seemed tired, and without offensive mentality.  Against the team from Santiago they will have to know how to play a balanced game in which the defense is efficient, but where the offense has enough goal scoring opportunities.
Unlike Olimpia, Universidad de Chile won their first game at home against a very weak Deportivo Lara.  Although they won 2-0, the team coached by Dario Franco had very few scoring opportunities.  That showed that the 'U' is still not in top form, which could serve as an advantage for Olimpia.
Olimpia vs Universidad de Chile Prediction
Olimpia is not a top team in the Libertadores therefore on Tuesday they will have to give it all to obtain a win at home.  They face the 'U' de Chile who has history of success in this competition and who will play for a second straight win to get closer to the next round.  The Olimpia vs Universidad de Chile match will end 2-1 in favor of the visiting team.
Olimpia vs Universidad de Chile Television
The Olimpia vs Universidad de Chile 2013 match will be televised DELAYED this Wednesday, February 20, 2013 on Fox Deportes at 8:00 AM Eastern.  Original game is on Tuesday at 7:30 PM.