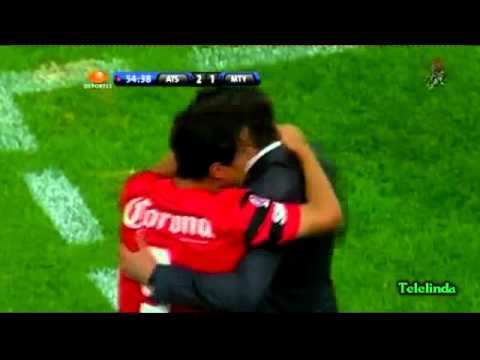 Best Goal of the Week:
This has been by far the most difficult week of the Clausura 2013 to choose the most beautiful goal of the week.  Week 7 of the Liga MX was the week with the fewest goals, but those few goals came in high fashion.  There were 4 goals that differed from the rest; Omar Arellano from Monterrey chipped the ball over Atlas's goalie, Omar Bravo shot cannon from a lobbed ball, Edwin Hernandez put a ball to the top corner from a long distance, and Darwin Quintero shot a ball to the far corner with no angle. However, and as tough and controversial as it might be, the best goal of the week goes to Angel Reyna from Pachuca.  The offensive midfielder saw the ball bounce to the side of him as he was in a far distance from the goalie.  Before two defenders could get to it, he took a potent shot to the goalie's top left corner.  A majestic goal, and definitely one to remember.
Notes: Angel Reyna – 3′: Pachuca 2-1 Cruz Azul
[youtube Quqc9xZ_Qps]
 Most Important Goal of the Week:
It seems that Club Atlas is winning this category on a regular basis, but who can blame them; they have been outstanding and are currently the talk-about team.  This week's most important goal comes from the foot of striker Omar Bravo.  Bravo scored the winning goal in the 54th minute of the game against Monterrey.  His goal was his fourth this season, and while he was hated by Atlas fans upon his arrival due to his Chivas past, today he is the star of his team.  His goal was important in defeating Monterrey 2-1, it was important in giving Atlas 16 points into the season, and it was important because the words Atlas and relegation do not belong in the same sentence anymore.  Finally, his goal was majestic, and it may as well be named the 'goal of the week'.
Notes: Omar Bravo – 54′: Atlas 2-1 Monterrey
[youtube tdaTPnNo4FA]