View the America 3-1 Copa MX highlights here.
The America vs Necaxa 2013 Copa MX match will be played at the Estadio Azteca on Tuesday, February 19 at 10:00 PM Eastern. America won the first match against Necaxa 4-1 in Aguascalientes,  a win in the Estadio Azteca guarantees America a spot in the Copa MX Quarterfinals.
America has won 5 out of 7 Liga MX matches, and all three of its Copa MX matches (all other teams in Group 1 are from the Ascenso MX). America has scored 9 goals in the Copa MX, and only allowed 2. That's an average of 3 goals scored per game, and less than one allowed per match. Miguel Herrera has kept his players motivated for all competitions.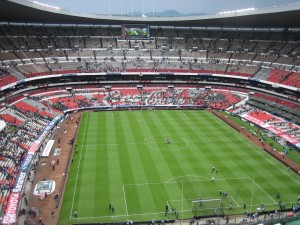 Last weekend, America was very close to adding their 6th Liga MX victory of the season. However, a 94th minute goal from Toluca gave the away team an amazing 2-2 draw. Herrera was angered, and his post-match conference showed it. He will want to make sure to follow-up that ugly tie with a thrashing of Necaxa in the Copa MX.
Necaxa, even with its sold-out stadium (well, ok, most were America fans), was unable to halt the tidal wave of goals that America poured on to them. An ugly 4-1 loss in the Copa MX was just the first part of a bad week for Necaxa. They followed that loss with a 1-0 away loss against Merida in the Ascenso MX. Necaxa has earned only 5 points in 6 Ascenso MX matches so far.
With a win in the America vs Necaxa match, America would gain 4 points (extra point given in the Copa MX to the team that wins on aggregate score), and reach a total of 14 points. This would make America unreachable to any other team in Group 1, and would thus guarantee their qualification to the Copa MX quarterfinals.
America vs Necaxa Prediction
America has proven over 3 Copa MX matches that the Ascenso MX teams are no match for them. Expect Club America to come out dominating, looking not just for the win, but for a complete blowout. Necaxa will simply keel over and take it. The America vs Necaxa Copa MX match will end in a 3-0 home win for America.
America vs Necaxa Television
The America vs Necaxa match will be televised on Galavision this Tuesday, February 19 at 10:00 PM Eastern.