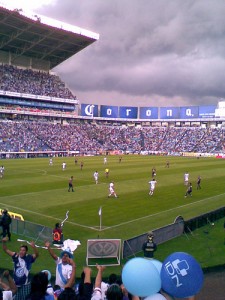 View the Chivas 1-1 Puebla highlights here.
The Chivas vs Puebla Liga MX 2013 match will be this Sunday, February 17, 2013 (5:00 PM EDT) at the Estadio Cuauhtémoc.  Both Chivas and Puebla come into the game in a good moment as they earned wins the last week.  Puebla and Chivas are two rising teams which could become real playoff contenders if they obtain points in the following weeks.
Puebla is in the top positions of the league with 10 points after 6 games.  Another win by the 'poblanos' will put them in the top positions of the league as they would reach the top 5 in the regular standings.  This is a team that has played wonderfully of late under the guidance of Manuel Lapuente, and those performances will move the team away from relegation talks.
Chivas of Guadalajara comes into the game with their hopes up in the sky as they finally were able to gain their first win of the season last week.  Chivas is a team that has underperformed, but in terms of defense they have been magnificent considering they have only lost one game.  They possess a powerful offense lead by Rafael Marquez Lugo and Miguel Sabah which receives no love from their midfielders.  The moment the forwards can play well with the midfielders, Chivas could be a powerful team in this league.
Chivas vs Puebla Prediction
Chivas is in good form, and once again, they are a Liga MX contender for the playoffs.  Against Puebla, if they play with a strong defense and the offense performs adequately, they will surely add another 3 points to their season.  Puebla has played in an upward scale for several weeks now, and a win against Chivas will also make them into a playoff contender.  The Chivas vs Puebla 2013 match will end in a 1-1 draw.
Chivas vs Puebla Television
The Chivas vs Puebla match will be televised this Sunday, February 17, 2013 on Azteca America at 5:00 PM Eastern.