The Pumas vs Morelia 2013 match will have Pumas host Morelia at the Estadio Olimpico Universitario on Sunday, February 17th at 10:00 AM PST.
Pumas, trying to maintain dominance
Although it's almost 3 months since Pumas last won a match at the Estadio Olimpico Universitario, they have a good chance at breaking that streak when they face Morelia on Sunday. Pumas has won 8 out of the last 10 matches against Morelia held at the EOU, including the game for the Championship in 2011.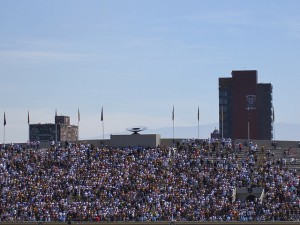 Pumas played a Copa MX match versus Celaya this week and they got a draw after a somewhat relaxed match. Pumas has, however, struggled with the offense as their total goals scored are certainly low. Torres Servin must check and define a solution to this attacking failure. Against Morelia, they have to seek the 3 points and make use of the speed on the sides of the field, Cortes and Fuentes can be key players that can attain this. Bravo and Herrera or Ramirez should be upfront looking to score.
Morelia: still close to qualifying positions
Morelia has not been the same team since Tomas Boy left, and even though its' strong in the hands of Ruben Omar Romano, it has not reached the levels that just 2 seasons ago Morelia possessed. Missing Sabah and Marquez Lugo has also brought the team to the adverse situation they are placed in today.
However, Morelia is still close in points to the positions that would allow them to reach post-season. With 8 points, this team still has good chances to qualify. Morelia will face a Pumas squad that has been difficult to beat at their home, bringing up again the fact that Morelia lost a championship at this stadium.
Pumas vs Morelia Prediction
The Pumas vs Morelia match will be even, although, Pumas seems to be playing better, they still have not reached the ideal level to fight the harder games. Morelia still irregular and at points a good team, at some other times very different. A game that will be played on the sides due to the nature of their midfielders, dynamic on the side of Pumas and equilibrated on the side of Morelia. My prediction for the Pumas vs Morelia match is a 1-0 win for the Mexico City based team.
Pumas vs Morelia Television
The Pumas vs Morelia match will be televised on Univision this Sunday, February 17th at 10:00 AM PST.