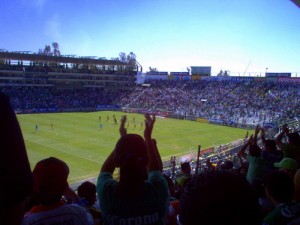 The Leon vs San Luis Liga MX 2013 match will be this Saturday, February 16, 2013 (9:00 PM EDT) at the Estadio Nou Camp.  Both Leon and San Luis still have not obtained a victory after 6 weeks in this Clausura 2013.  Both squads have a mere 2 points, and this week will be the last push by either team to see if they have any chances left to qualify into the playoffs.
Leon was a dynamic, goal-scoring, Cinderella team last season.  Today they are everything but that, and if things do not change quickly, they could be involved in relegation talks.  This is a highly talented squad who may have lost its mojo with the additions of divas Rafa Marquez and Nery Castillo; but let's also not forget the addition of Yovanny Arrechea who has taken the starting spot in front of Matias Britos and Sebastian Maz who last season were crucial to the team's success.  Leon is a team that has the material to do big things, but whatever is not working needs to get fixed this weekend if they still hope for a playoff appearance.
The Reales of San Luis are in a similar situation to Leon; they have only 2 points, and their season is quickly spinning out of control.  The only difference, and I have mentioned this about San Luis several times, is that this is a team with poor talent.  San Luis does not play badly, however, they play at the highest level its talent allows it.  Even with a victory against Leon, this is not a playoff caliber team, and in fact this is a team that will be on relegation talks in future seasons.
Leon vs San Luis Prediction
Both Leon and San Luis are urged for a win; another tie or loss means another negative mark on an already ugly season.  Leon will have the home advantage, and their fans still pack the stadium.  Sadly for San Luis, this game will be decided by the stadium pressure and the better talent.  The Leon vs San Luis 2013 match will end 2-0 in favor of the 'panzas verdes'.
Leon vs San Luis Television
The Leon vs San Luis match will be televised this Saturday, February 16, 2013 on Telemundo at 9:00 PM Eastern.