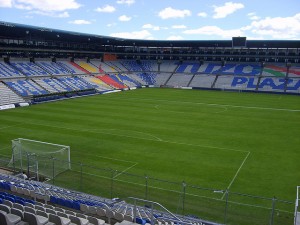 View the Pachuca 2-1 Cruz Azul highlights here.
The Cruz Azul vs Pachuca Liga MX 2013 match will be this Saturday, February 16, 2013 (8:00 PM EDT) at the Estadio Hidalgo.  Pachuca has won 2 games in a row, and a win against Cruz Azul would not only out them in a playoff zone, but it will also show that they are a top title contender in this Clausura 2013.  Cruz Azul is highly talented, and Saturday's game will be a good parameter to see where they stand as a tea, now that Javier Aquino is gone to Villarreal.
Pachuca is in the top positions of the league with 10 points after 6 games; however, they are still not a top team in terms of form and quality on the field.  This is a team that has a lot of promise and much to offer, but issues on offense and a shaky defense make Pachuca into a mid-table type of team.  The incorporation of star signing Fernando Cavenaghi will bring necessary strength to their offense, and if he fits into his new team quickly, Pachuca will be a team-to-watch.
There are two teams in the Clausura 2013 that are still undefeated; Tigres and Cruz Azul.  While Tigres is in first place with an amazing 16 points after 6 games, Cruz Azul has only won 2 and tied 4.  The problem with Cruz Azul has not been its offense which has scored 13 goals, but rather its defense that has been unable to hold off the opposing offense; they have received a poor 8 goals.  Cruz Azul has the potential to be a title team, and they will probably be in this season's playoffs, however, the Liga MX is a difficult league and perfection in every line is required if they want to accomplish big things.
Cruz Azul vs Pachuca Prediction
Cruz Azul is in good form, and once again, they are a Liga MX contender for the title.  Against Pachuca, if they play with a strong defense and the offense performs adequately, they will surely add another 3 points to their season.  Pachuca has played in an upward scale for several weeks now, and a win against Cruz Azul will also make them into a title contender.  The Cruz Azul vs Pachuca 2013 match will end 2-1 in favor of the 'cementeros'.
Cruz Azul vs Pachuca Television
The Cruz Azul vs Pachuca match will be televised this Saturday, February 16, 2013 on Univision Deportes at 8:00 PM Eastern.