View the Atlas 2-1 Monterrey highlights here.
The Atlas vs Monterrey 2013 match will be this Saturday, February 16, 2013 (10:00 PM EDT) at the Estadio Jalisco.  Atlas is a relegation candidate that is playing like a playoff contender, unfazed by the pressure. Monterrey is struggling and is currently in a losing streak it hopes to break out of at the Estadio Jalisco.
Atlas started off the season tied with Queretaro in the relegation battle. After 6 weeks, Atlas is now 7 points ahead of Queretaro, and looking like it will stay at least 1 more year in the Liga MX. Atlas is having one of its best season starts in years: 4 wins, 1 draw, and a loss for a total of 13 points.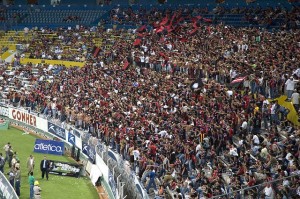 Tomas Boy has done an excellent job with his team, motivating the young players to give it their all, and extracting all he can from the experienced players. You can see how the whole team celebrates each goal as though it were a World Cup goal- Atlas is highly motivated. Furthermore, it appears that moving back to Guadalajara has revitalized Omar Bravo, who has scored 3 goals and has been key in all of Atlas' victories.
Vucetich can't seem to find the sweet spot with Monterrey, that team's incredibly talented roster simply can't play well. After 6 matches, Monterrey only has 7 points. Furthermore, they have lost the last 2 matches, against Atlante and Chivas. 2 teams that currently reside in the bottom half of the standings- definitely embarrassing.
Can Vucetich turn his team around and come out of the Estadio Jalisco with any points?
Atlas vs Monterrey Prediction
The Atlas vs Monterrey match will be intense, just as every other Atlas game this season has been. Atlas has won all 3 of its home matches, thanks in part to the great support from its fans. Monterrey is yet to win an away game (lost 2, tied 1). When you take a look at those stats and recent result, you can see where this is heading.  The Atlas vs Monterrey match will see Atlas continue the home winning streak: Atlas will win 2-1.
Atlas vs Monterrey Television
The Atlas vs Monterrey 2013 match will be televised this  Saturday, February 16, 2013 on Univision Deportes at 10:00 PM Eastern.