View the America vs Toluca 2-2 highlights here.
The America vs Toluca Liga MX 2013 match will take place this Saturday, February 16, 2013 (6:00 PM EDT) at the Estadio Azteca.  America is one of the hottest teams in the Liga MX, and is looking to keep it that way. Toluca is coming off a historic Copa Libertadores victory against Boca Juniors at La Bombonera. This is definitely the must-watch match of week 7.
America has started off the season in an almost perfect fashion. Winning 5 out of 6 Liga MX matches, its only loss coming against a surprisingly good Atlas at the Estadio Jalisco. In these 6 matches, America has only allowed 4 goals, making it the best defense in the Liga MX. At the same time, America has scored 14 goals in those matches. Even America's "B squad" has stepped it up, winning all 3 Copa MX matches disputed so far.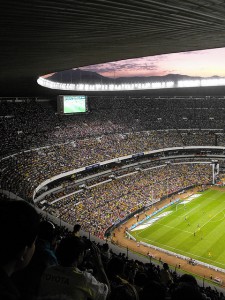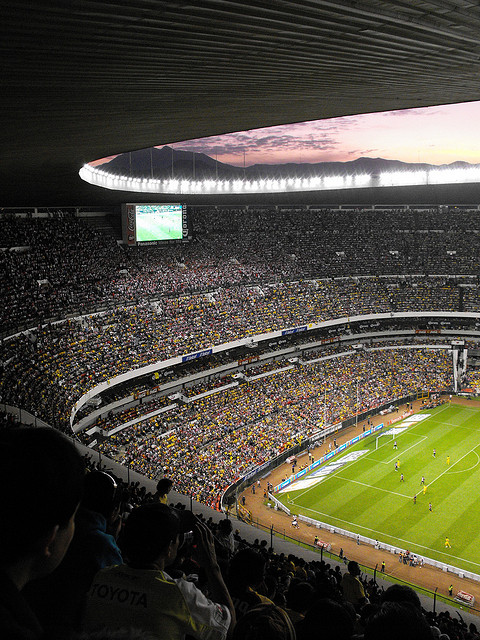 America's success is on one hand due to their great defense, led by Aquivaldo Mosquera. The offense, however, has also been explosive. Benitez, as expected, has been playing quite well and has scored 3 goals. Furthermore, Raul Jimenez has also been great, scoring 4 goals and sending Ecuadorian transfer, Mina, to the bench. This America squad appears to have the talent and heart (re: week 6 win over Xolos) to make a run for the Liga MX title.
Toluca has not had a good start this season: winning just 1 game, losing 3, and drawing the other 2. During the course of these 6 games, Toluca allowed 9 goals while scoring only 5. Tejada has been stone cold, and is far away from being the explosive striker we saw last season. Furthermore, Toluca missed Sinha due to injury for several of those matches, and that was likely a factor in the bad performance.
However, Toluca might have "turned a corner" this past Wednesday, when it visited La Bombonera in Buenos Aires and defeated Boca Juniors 2-1. Toluca played a perfect game and got a historic victory. A key reason Toluca played so well was due to Sinha's reappearance in the squad, the Brazi-Mexican player played a great match, controlling the flow of the match. The question is, can Toluca play with the same intensity against America?
America vs Toluca Prediction
The America vs Toluca match will be intense, both teams are coming off of good performances, and the entire soccer media has proclaimed this the match of the week. Herrera wants to continue the winning streak, expect him to play with an offensive formation. Toluca is coming off a historic victory- they are motivated. However, America is simply playing too well, and Herrera is well acquainted with how Toluca plays, he will neutralize (to an extent) Sinha.  The America vs Toluca will be a close contest, but America will win 2-1.
America vs Toluca Television
The America vs Toluca 2013 match will be televised this  Saturday, February 16, 2013 on Univision at 6:00 PM Eastern.