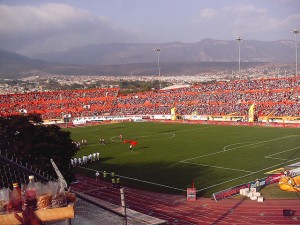 View the Xolos 0-2 Jaguares highlights here.
The Xolos Tijuana vs Jaguares Liga MX 2013 match will be this Friday, February 15, 2013 (8:30 PM EDT) at the Estadio Victor Manuel Reyna.  Jaguares of Chiapas will look to earn their first victory during the Clausura 2013 when they host one of the best teams in the league.  Club Tijuana lost at home last week against a 9-man America, therefore on Friday they will attempt to get back on track by leaving Chiapas with the win.
Jaguares of Chiapas are going through a terrible run in which after 6 games they have lost 4, tied two, scored 6 goals, and received 13.  There is nothing going right for the team that is placed last in the standings, and who with another winless week would say good-bye to the playoffs.  They face a team that has 11 more points, and who is playing in good form even after a loss.  Jaguares has to change things quickly, otherwise their coach, and their season will be gone.
Xolos of Tijuana have a very difficult 10 days in front of them; on Friday they face Jaguares, on Tuesday they open their Copa Libertadores journey against Millonarios of Colombia, and on Saturday they return home to host Atlante.  The busy weeks coach Antonio Mohamed had talked about have finally arrived, and a real challenge begins for the reigning champs.  After 6 weeks, they are 3rd in the league with 13 points, and a win against Jaguares will put them at 16, or in other terms, at about 11 points away from a playoff seed with 10 games to go.  Tijuana will be urged to win at Tuxcla Gutierrez to release pressure from the domestic league; question is, will Mohamed use starters, or will he begin using his 'B' squad?
Xolos Tijuana vs Jaguares Prediction
Jaguares has not been able to find their form this season; they are terrible on every line, including on the coach's position.  Another loss could mean the end to Guadalupe Cruz's tenure, therefore there is extreme pressure to gain their first victory.  Xolos of Tijuana lost last week, but they did in a very weird fashion as they faced a 9-man team.  On Friday they want to show that they are still on their title form, and a win will be essential to earn an extra 3 points before the start to their Libertadores season.  The Xolos Tijuana vs Jaguares will be a close contest, but Xolos will win 1-0.
Xolos Tijuana vs Jaguares Television
The Xolos Tijuana vs Jaguares 2013 match will be televised this Friday, February 15, 2013 on Azteca America at 8:30 PM Eastern.