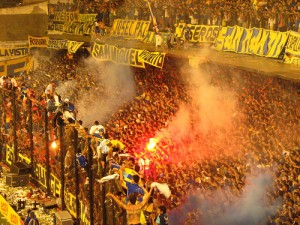 The Boca Juniors vs Toluca Copa Libertadores 2013 match will be this Wednesday, February 13, 2013 (7:00 PM EDT) at the Estadio La Bombonera in Buenos Aires.  Boca Juniors (ARG) and Toluca (MEX) will play their first game during the group stages of the Copa Libertadores 2013.  They are part of Group 1 which also includes Barcelona (ECU) and Nacional (URU); the top two teams will advance to the final-16.
Toluca wants to begin the Libertadores on the right note when they visit the always difficult Bombonera in Buenos Aires.  Toluca qualified to the tournament by being the runner-ups in the past Clausura 2012 of the Liga MX, but of late they have been in terrible form both offensively and defensively.  Toluca may not be in their ideal shape to face one of America's top teams, but they have the talent and experience necessary to leave Argentina with at least a point.
The 'xeneizes', under new all-star coach Carlos Bianchi, will attempt to improve on what they did during the 2012 Libertadores; win the title.  Boca Juniors ended as runner-ups in last year's edition, therefore they are one of the favorites to win the title.  This is team with an extremely rich history, and one of the world's most menacing stadiums which will undoubtedly cause problems for the visiting teams.  In an effort to win this year's title, the club recently re-signed star midfielder, Juan Roman Riquelme.  This player will be a must-watch star during the tournament as he is one who can be a real game-changer.
Boca Juniors vs Toluca Prediction
Toluca will finally begin another journey in Copa Libertadores.  They have been in a very poor form in the Liga MX, and on Wednesday they have an extremely difficult fixture against a top title contender.  Boca Juniors is ready to compete for a 7th Libertadores title, and beginning with a win against the Mexican squad will put them on the right track.  the Boca Juniors vs Toluca will be a close contest that will end 2-0 in favor of the home team.
Boca Juniors vs Toluca Television
The Boca Juniors vs Toluca game will be televised LIVE this Wednesday, February 13, 2013 on Fox Deportes at 7:00 PM Eastern.