CLICK HERE FOR THE AMERICA VS NECAXA FEBRUARY 19 PREVIEW
The America vs Necaxa 2013 Copa MX match will be played at the Estadio Victoria on Wednesday, February 13 at 10:00 PM Eastern. Necaxa will have the difficult task of hosting the hottest team in Mexico, a Club America squad that is looking for another win.
America has won 5 out of its 6 Liga MX matches, and both of its Copa MX matches against Altamira. Along the way, America has scored 19 goals (!) in those 8 matches, while allowing only 5. In one word, America has been simply: outstanding. The America vs Necaxa match might end up in another win for America.
To further highlight their great season start, America went to the Estadio Caliente this past Saturday, and defeated Tijuana 2-1, while playing with 9 men most of the match. Quite an incredible task, given that Xolos had not lost at home since the Clausura 2012, and had lost only 2 Liga MX matches out of the last 29 played anywhere in Mexico.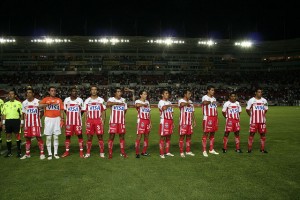 Necaxa, on the other hand, has been struggling badly in the Ascenso MX. Having earned just 1 win in 5 Ascenso MX matches, sitting in 11th place with just 5 points. They did, however, defeat Neza twice in the Copa MX, and are tied for first place in Group 1 of the Copa MX with America. Each team has 7 points (an extra point is given in the Copa MX for whichever team wins on aggregate score).
To move on to the next phase of the Copa MX, Necaxa must avoid defeat against America, a loss at home would seal the deal for America, and pretty much give the Mexico City based team control of Group 1. A draw is the bare minimum needed against America.
America vs Necaxa Prediction
America has been on a hot streak and can be (at leas for the moment) regarded as the best team in Mexico. Necaxa has been struggling in the Ascenso MX, although it's doing well so far in the Copa MX. Expect Herrera to have his team attack in an effort to maintain the winning momentum; Necaxa will attempt to defend. However, the America vs Necaxa Copa MX match will end in a 3-0 away victory for America.
America vs Necaxa Television
The America vs Necaxa match will be televised on Galavision this Wednesday, February 13 at 10:00 PM Eastern.