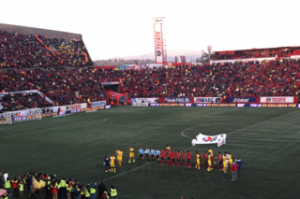 The Numbers:
Week 6 of the Clausura 2013 of the Liga MX had a total of 9 games; 7 wins and 2 ties.  There were a total of only 22 goals, which translates to an average of 2.4 goals per game.  Tigres was the team that scored the most with 4 goals, while Morelia, Chivas, and Pachuca did not receive any.
Players of the Week by Position:
Goalkeeper – Club America would not be celebrating their victory if it weren't for Moises Muñoz.  This keeper was essential in their win against Xolos because he saved at least 5 shots which were clearly bound for the back of the net.  He was important in keeping his net to only one goal received considering his team was down two players for more that 50 minutes.
Defender – Paul Aguilar from Club America played a wonderful game in the amazing 9-player win against Xolos.  The right defensive winger scored the winning goal in the 2-1 victory, however his goal was just part of the show.  He began the game as the defensive winger in Miguel Herrera's 5 defender formation.  When America got their first red card, he then moved on to the midfield.  When Aquivaldo Mosqueda was given America's 2 red, Aguilar was then used as a counter-attacking midfielder and forward.  The defender used his great speed to give Xolos defenders a hard time, and his actions were beneficial in his team's great win.
Midfielder – DaMarcus Beasley from Puebla scored his 2 first goals of the season in the game which his team won 3-1 against San Luis.  The Offensive winger came in as a sub early in the 2nd half, and his presence was quickly felt as he was supportive on quick attacks, and scoring plays which resulted in another win for Puebla's surprisingly successful season.
Forward – Emmanuel Villa from Tigres has been phenomenal after 6 games this season.  He is the offensive leader of his league-leading team, and against Toluca he scored a goal, assisted another, and provoked a penalty.  He now has 6 goals in the season, but most importantly, his performance allowed his team to defeat Toluca 4-1.
Best Player of the Week:
Emmanuel Villa from Tigres was highly considered for the player of the week because his performance was important in his team staying in 1st place of the standings. Paul Aguilar from America was the game-changer with his counter-attack goal which ultimately gave his team the win.  However, the player of the week goes to keeper Moises Muñoz also from America because he was the leader in his team's win. He made numerous saves, he kept his goal clean for most of the match, and he directed his defenders from the back-line.  He was the leader on the synthetic field, and it weren't for him, Xolos could have tied the match, and even won by a great margin of goals.
Team of the Week:
This is Club America's week.  They defeated the reigning champions, Xolos; a team who had not lost 20 straight regular season games.  Plus, they defeated them at the Estadio Caliente, which Xolos had not lost a game at for over 13 home games.  To make things incredible, they won in good fashion by styling a pressuring midfield which gave Xolos no spaces.  Oh and yes, they did all this with only 9 players for over 50 minutes because they were given 2 red cards.  Club America now has 15 points, sits 2nd in the standings, and by the way they are playing they are a very serious title contender.