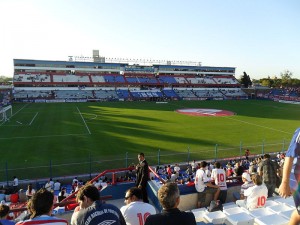 View the Nacional 2-2 Barcelona Copa Libertadores highlights here.
The Nacional vs Barcelona Copa Libertadores 2013 match will be this Tuesday, February 12, 2013 (5:00 PM EDT) at the Estadio Gran Parque Central in Uruguay.  Nacional de Montevideo (URU) and Barcelona Sporting club (ECU)  will play their first game during the group stages of the Copa Libertadores 2013.  They are part of Group 1 which also includes Boca Juniors (ARG) and Toluca (MEX); the top two teams will advance to the final-16.
Nacional of Montevideo will expand their international history in Tuesday when they host a top team, Barcelona from Ecuador.  Nacional is a prestigious team in terms of history and titles, who has won 3 Libertadores tournaments; the last in 1988.  This is a team that has various players that were stars as is the case with Vicente Sanchez who excelled with Toluca, and most recently Ivan Alonso, also with Toluca.
Barcelona goes into Uruguay as the reigning champions in the past Ecuadorian league.  The team from Guayaquil will have a difficult time leaving Montevideo with a positive result, therefore they will style a defensive line-up with the purpose of at least attaining a tie.  A set-back for this team is that they do not have the player that was crucial in their title last season, Narciso Mina, who scored 30 goals in the title run and who today is a substitute with Club America of Mexico.
Nacional vs Barcelona Prediction
Barcelona will try to show why they were league champions in Ecuador.  However, they face a talented squad with a lot of experience like Nacional.  Tuesday's match will be very close between 2 teams that have a high possibility of accessing the next round in the Copa Libertadores 2013.  The Nacional vs Barcelona match will end in a 1-1 draw.
Nacional vs Barcelona Television
The Nacional vs Barcelona game will be televised DELAYED this Wednesday, February 13, 2013 on Fox Deportes at 8:00 AM Eastern.  Original game is on Tuesday at 5:00 PM Eastern.