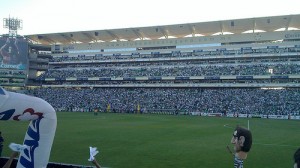 The Santos vs Pachuca 2013 match will be this Sunday, February 10, 2013 (5:00 PM EDT) at the Estadio TSM Laguna. Santos Laguna has had a decent start to the season by earning 8 points and currently sitting in 7th place in the regular standings. Pachuca has begun the Clausura 2013 with 7 points and currently sits in 10th place.
Santos Laguna will look to maintain their undefeated streak at home when they receive an often difficult Pachuca. Santos will be without star forward Oribe Peralta who is out with a facial fracture after the mid-week game between Mexico and Jamaica. He will likely be replaced by Gerardo Lugo which will make the team slower up-top but with a better possession in the center of the field.
Pachuca will have two players that will live special moments during Sunday's game. First, striker Fernando Cavenaghi could be making his Liga MX debut. He is a natural striker that will bring a much needed offensive aid. Also, Daniel Ludueña will return to the TSM which is where he had his best years in Mexico.
Santos vs Pachuca Prediction
The Santos vs Pachuca game will be a close contest between two teams with good talented squads, but who are still looking for their highest form. Santos has a strong defense which has only allowed 3 goals, but their offense has only scored 6 times. Pachuca has the worst offense in the league with 4 goals, but the incorporation of star signing Fernando Cavenaghi could bring real change. The Santos vs Pachuca match will end in a 1-1 draw.
Santos vs Pachuca Television
The Santos vs Pachuca match will be televised this Sunday, February 10, 2013 on Univision Deportes at 5:00 PM Eastern.