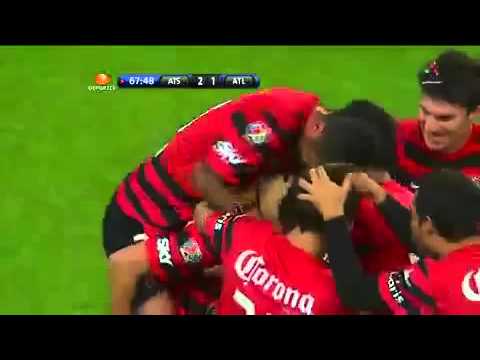 Best Goal of the week:
Club Atlas has surprised everyone with their quality form this season.  They are in 4th place of the standings with 13 points, the idea of relegation is quickly fading away, and this week they provided us with the best goal of the week.  When the game between Atlas and Atlante was tied 1-1 in the 67th minute, Edson Rivera received a high loose ball.  What he did next could be seen as a half-mistake, but he auto-passed it in a lobbed ball, and before the ball hit the ground, he took a left footed shot right on the border of the box.  The ball was hit hard to the goalie's lower left corner for the 2-1 final score.
Notes: Edson Rivera – 67′: Atlas 2-1 Atlante
[youtube l17YRalqmJY]
Most Important Goal of the Week:
Every week in the Liga MX is filled with game-changing goals that could be voted as the most important of the week.  For example, Edson Rivera's goal gave Atlas yet another win during this young season which has put his team on a playoff mentality rather than on relegation.  Rafael Marquez Lugo scored the goal which gave Chivas their first win of the Clausura 2013, and the goals by Tigres and Puebla translate into outstanding performances by these clubs.  However, the goal that made the biggest difference was that by Paul Aguilar in the 53rd minute of the Xolos Tijuana vs America game.  When Xolos were dominating the game as America had 2 less players on the field, Aguilar made a quick counter-attack on a slow Xolos defense.  He then saw goalie Cirilo Saucedo running backwards to which he took a potent shot.  The ball went above Saucedo to make the score into a surprisingly 2-0.  This is incredible considering America was down 2 men and everyone expected Xolos to score several goals in the second half.  Aguilar's goal allowed his team to hold back the opponent, and America won 2-1 against the reigning champs at the Estadio Caliente where Xolos had not lost in 13 straight home games.
Notes: Paul Aguilar – 53′: America 2-1 Xolos Tijuana
[youtube ZctlFuFiRoQ]