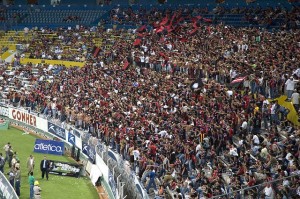 View the Atlas 2-1 Atlante highlights here.
The Atlas vs Atlante 2013 match will be this Saturday, February 9, 2013 (10:00 PM EDT) at the Estadio Jalisco.  Atlas is obliged to keep earning points week-after-week to remain in the Liga MX.  On the other hand, Atlante has won 2 in a row after a poor beginning to the season and another win makes them into a clear playoff contender.
This Week 6 match will be between two lowly rated teams who have been on the rise.  Club Atlas has been outstanding this season by being in 4th place of the regular standings with 10 points.  Coach Tomas Boy seems that he finally sent his message to the players on the field and his team has played smart, and efficiently.  Veteran striker Omar Bravo was hated and even threatened when he signed with the team, but he now is a top assister and goal scorer in his team.  Another good performance from his side could allow Atlas to earn an extra 3 points.
After letting Ricardo Lavolpe leave the team, Atlante signed coach Daniel Guzman.  His message was quickly understood by his new players last week when Atlante defeated Monterrey 3-1.  Atlante lost the 1st three games of the season after disastrous performances, but in the past two they have scored 7 goals and earned all 6 points.  This is a team with a dangerous offensive duo in Joaquin Lavirrey and Esteban Paredes who on Saturday could be the game-changers.
Atlas vs Atlante Prediction
Atlas has 10 points which they earned by playing a balanced, counter-attack system.  They are currently in a good moment, and they play each game with an attitude as if they were a final. Atlante has been scoring many goals, but on Saturday they face one of the league's top defenses.  The Atlas vs Atlante 2013 match will end 2-1 in favor of the 'zorros'.
Atlas vs Atlante Television
The Atlas vs Atlante match will be televised this Saturday, February 9, 2013 on Unimas at 10:00 PM Eastern.
View the Atlas 2-1 Atlante highlights here.