The Cruz Azul vs Pumas 2013 match will see the Cementeros host Pumas at the Estadio Azul on Saturday, February 9th at 3:00pm PST.
Pumas, looking to extend their luck at the Estadio Azul
Since 2008, Pumas has not lost at the Estadio Azul. Within the last five years, when playing at the Estadio Azul, Pumas has seen good results, although they have won only twice. This Saturday, Pumas will face a Cruz Azul squad that has gotten better results this season, given that Pumas has only 1 win, 2 ties and 2 loses.
Pumas did play a good game overall last week versus Santos, but lacked in the front and in the midfield. Chiapas and Romagnoli were imprecise. Nonetheless, the team showed a better collective game and seems to be picking up heading towards the mid season.
Cruz Azul, Vazquez will face his old team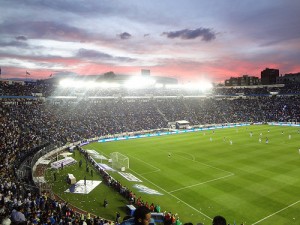 Cruz Azul has not lost in the last 5 games; however, they only have 2 wins and 3 ties. Cruz Azul will seek to break the streak of results that Pumas has gotten at their stadium and will look to gain the 3 points in their favor.
Vazquez will face not only his old team, but also his friend Torres Servin, whom helped him obtain the last Championship that Pumas got. Another point to take into consideration is that Aquino is now gone from the team and Pablo Barrera is still injured, so there is no creative lateral player that could strike through the sides unless they move Chaco Gimenez.
Cruz Azul vs Pumas 2013 Prediction
The Cruz Azul vs Pumas is a very attractive game, lots of speed due to the abilities of the players. The offense of Cruz Azul will be on the front all the time. Pumas will have a tough time facing goalkeeper Corona. The Cruz Azul vs Pumas will be an intense game that will end with a score of 1-1, splitting the points.
Cruz Azul vs Pumas 2013 Television
The Cruz Azul vs Pumas match will be televised on Azteca America this Saturday, February 9th at 3:00PM PST.