View the Mexico 0-0 Jamaica highlights & Recap here.
The Mexico vs Jamaica match will be held at the Estadio Azteca in Mexico City on Wednesday, February 6, 2013 (9:30 PM EDT).  Mexico will receive Jamaica in the first set of games of the CONCACAF World Cup Qualifiers Hexagonal.  During this final round, there are a total of 6 teams, they all play each other twice, top 3 advance directly to the Brazil 2014 World Cup, 4th place team plays a playoff qualifier against the top-placed team from Oceania, and the other 2 go home.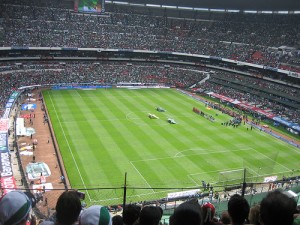 'El Tri' will begin the final step towards the aspired Brazil 2014 World Cup.  The team lead by Jose Manuel De La Torre will begin its participation with its best players, and at their feared home stadium.  Mexico is a clear favorite to finish in first place in the group, but to accomplish this they will have to play an intelligent qualifier by respecting all opponents regardless of their rank or talent.
Mexico has been the elite national team in the region for years now. As a team whose domestic league grows stronger, and its youth becomes more globalized, Mexico is a team that will look to make history in the next World Cup.  Therefore, the game against Jamaica is crucial in the aspiration of the 'tricolor' because earning a quick first 3 points could serve as a parameter of how the rest of the round will be.
Jamaican coach Theodore Whitmore knows that they will play their most difficult match in the hexagonal when they face Mexico in the 100,000 seat Azteca stadium.  Not only is Mexico superior in talent, experience and history, but the pressure from the fans and the high altitude of Mexico City are all factors which the Jamaican squad must battle.  Therefore, the 'reggae boys' must play a near perfect game on Wednesday night in order to come out of Mexico with at least a tie.
In the past round Jamaica had a good participation by finishing 2nd in their group just behind the United States.  They showed that they have speedy forwards which can make a difference in a quick counter-attack.  However, their defense is their weakest spot, therefore against Mexico they will need to focus on a counter-attacking system to attempt and force Mexico to the least possible goals.
Mexico vs Jamaica Prediction
The Mexico vs Jamaica match could be a one-sided game in which Mexico dominates and defeats Jamaica by a couple of goals.  Mexico's talent is currently under great form as all their players are starters and stars in their teams.  Jamaica will play a defensive game, but in this game their mentality will be crucial to ignore the 100,000 fans, and their physique to defeat the high altitude.  The Mexico vs Jamaica match will end 3-0 in favor of the home team.
Mexico vs Jamaica Television
The Mexico vs Jamaica match will be televised on ESPN 2 and Unimas this Wednesday, February 6, 2013 at 9:30 PM Eastern.
View the Mexico 0-0 Jamaica highlights & Recap here.