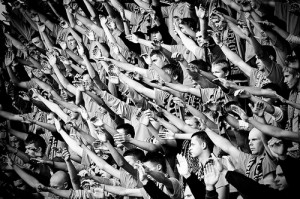 The Numbers:
Week 5 of the Clausura 2013 of the Liga MX had a total of 9 games; 5 wins and 4 ties.  There were a total of 25 goals, which translates to an average of 2.7 goals per game.  Club America, Puebla, and Atlante are the teams that scored the most with 3 each, while America, Pachuca, Pumas, and Santos did not receive any.
Players of the Week by Position:
Goalkeeper – Oswaldo Sanchez from Santos Laguna wins his second award of keeper of the week after his performance against Pumas.  In the game which ended 0-0, he allowed his team to earn their 3rd clean-sheet of the season with opportunistic and talented saves, as well as a saved penalty kick.
Defender – Felipe Baloy from Santos Laguna had another good game in the defense.  As the defensive leader of his team, he earns the defender of the week because he allowed his team to earn its 3rd clean sheet of the season, and kept the 'against goals' at only two.
Midfielder – During the must-watch game of the week, Lucas Lobos from Tigres had 2 goals.  His goals showed that he is still a top midfielder in the Liga MX who is aiding his team to the top seed in the standings.  Lobos scored 2 goals against the reigning champs, and most importantly, these allowed them to remain undefeated.
Forward – Raul Jimenez is currently the must-watch Mexican forward.  The young Olympic gold medalist is scoring goals on a regular basis, and with his two classy goals against Queretaro, he now reached 4 goals, which is 1 more than the Apertura 2012.
Best Player of the Week:
Several players had an amazing performance during Week 5.  Oswaldo Sanchez kept his goal intact, Lucas Lobos scored 2 goals, and Omar Bravo is showing he is on his 2nd wind by having two assists.  However, the player that made the biggest impact was Mexican forward Raul Jimenez from Club America.  The young striker scored two quality goals against Queretaro bringing his season tally to 4.  He was recently called-up for the Mexico friendly against Denmark, but if his good performances continue, this is a player that will be competing in the World Cup qualifiers.
Team of the Week:
Last week this team was a very close 2nd place for the team of the week.  With another great showing, Club Atlas leaves out any doubts and wins the symbolic award.  Atlas has surprised strangers, analysts, and even their own fans with the great performances they have had throughout the first 5 weeks of the Clausura 2013.  This week they defeated a poor Jaguares 2-1, but most importantly, this win puts them in 4th place of the regular standings with 10 points.  Atlas is now 5 points in front of Queretaro in the relegation race, and if these performances continue, be sure to see them compete in this season's 'liguilla'.