View the Honduras 2-1 USA highlights here.
The Honduras vs USA match will be held at the Estadio Olimpico in San Pedro Sula on Wednesday, February 6, 2013 at 4 PM Eastern. This match will be the first game of the CONCACAF World Cup Qualifiers Hexagonal Round- 6 teams enter, they all play each other twice, top 3 advance directly to the Brazil 2014 World Cup, 4th place team plays a playoff qualifier, and the other 2 go home.
Coach Luis Suarez and the rest of the Honduran players know that giving away points at home could be very costly, even against a superior American squad. Losing is not an option, a draw should be the bare minimum expected, although a win is most likely Suarez' goal.
Honduras will field its strongest side, a mixture of home-based players, MLS-based players, and the European "Legionarios". The Wigan based players Maynor Figueroa and Roger Espinoza are expected to be the backbone of this Honduran squad.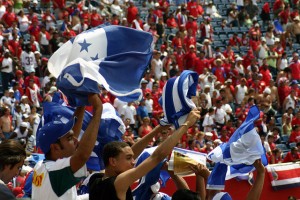 Klinsmann didn't do anything unexpected when he chose the US roster for this Honduras vs USA match- the team is mostly composed of European based players with a couple more from the MLS and Liga MX. The only key figure missing is Landon Donovan, the USA played its last couple of qualifying matches without him and it must continue to do so.
USA struggled in the previous CONCACAF qualifying round whenever it traveled-  losing at Jamaica, drawing with Guatemala, and barely defeating Antigua & Barbuda. Now, they will face an extremely tough Honduran side in front of what will definitely be the most hostile crowd the USA will face outside of Mexico City. Klinsmann had a couple of months to prepare for the Hexagonal round, is he finally ready?
Click here for the US and Honduras roster for this match.
Honduras vs USA 2013 Prediction
The Honduras vs USA match will be a tight, contested affair. The fans at the Estadio Olimpico will be loud, rowdy, aggressive, and expecting a home win. The Honduran side is likely to play a defensive formation, hoping to use its speed up front to counterattack, while utilizing the players' strength and physicality to defend. The USA will be given the opportunity to manage the game, they will maintain possession  and it will be up to Klinsmann to see how much the USA risks on the attack. The Honduras vs USA match will end in a 1-1 draw that leaves both sides satisfied.
Honduras vs USA 2013 Television
The Honduras vs USA match will be televised on beIN Sport USA on Wednesday, February 6, 2013 at 4 PM Eastern.
View the Honduras 2-1 USA highlights here.