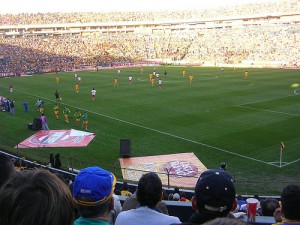 The Xolos Tijuana vs Tigres Liga MX 2013 match will be this Saturday, February 2, 2013 (8:00 PM EDT) at the Estadio Universitario.  Xolos of Tijuana is still on an amazing 19 regular season games without a loss.  They have won 4 out of 4 in the Clausura 2013 and on Saturday they face Tigres; who by the way is also having a perfect season.  Undeniably the game of the week and the must-watch game in this round, Tigres and Xolos will decide who the league's best team of the moment is.
The Xolos Tijuana perfect run this season is in jeopardy as they face a powerful squad who is playing exceptionally well.  Xolos will go to Monterrey to play like they know how to, which is with a strong defense, a midfield that defends first and attacks second, and a counter-attacking offense.  There will no room for mistakes as these could be the game-changes.
Like Xolos, Tigres is also in great danger of losing their perfect run in the Clausura 2013.  Their 9 goals and only 1 against have allowed them to a 4 out of 4 perfection, but on Saturday it will be the first time that they face a current elite team.  Emmanuel Villa will have a difficult time getting around Javier Gandolfi and Pablo Aguilar, therefore it will be beneficial for Dainilinho to exploit his speed on the wings, and for Lucas Lobos to create plays down the middle of the field.
Xolos Tijuana vs Tigres Prediction
Xolos of Tijuana is playing like the team that won the Apertura 2012, and things do not seem to change any time soon.  The difference from last season is that opponents give Xolos more credit and are beginning to understand their style.  Tigres has been potent at offense and a wall on defense, therefore it will take a perfect game from them to defeat a Xolos team that does not make mistakes.  Even a perfect Tigres game will not be enough to defeat the best team in Mexico, therefore the Xolos Tijuana vs Tigres game will end 1-1.
Xolos Tijuana vs Tigres Television
The Xolos Tijuana vs Tigres 2013 match will be televised this Saturday, February 2, 2013 on Unimas at 8:00 PM Eastern.