The America vs Queretaro 2013 match will take place on Saturday, February 2, 2013 at 6 PM Eastern at the Estadio Azteca in Mexico City. America is coming off a loss and is looking to bounce back, while Queretaro is already 5 points behind Atlas and desperate for points. Will Queretaro pull off a surprising upset?
America had a tough loss last week, losing to Atlas at the Estadio Jalisco 2-1 after having been up 1-0. Miguel Herrera's apparent super-team was defeated by a feisty relegation candidate, now they will face Queretaro, another team fighting for its life. Herrera will have to motivate his team and let them know that a "great" team like America is not allowed to lose to relegation candidates.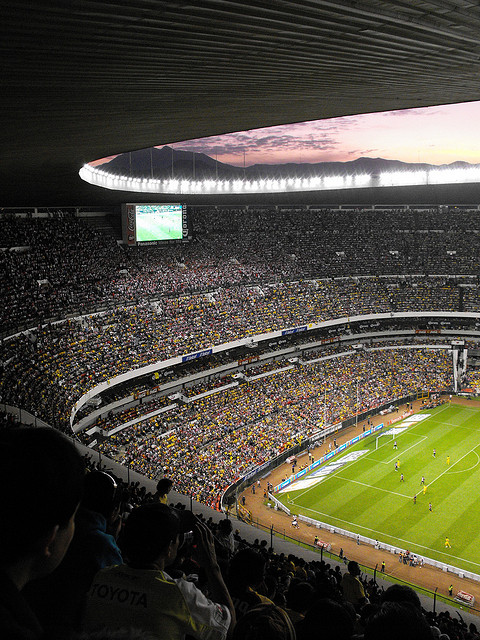 Before last week's loss against Atlas, America had been on a perfect streak, winning 3 out 3 matches. The 2-1 loss at the Estadio Jalisco brought America down to earth. A team that had scored 8 goals in 3 matches, and only allowed 1, was suddenly unable to score more than 1, and actually allowed 2. Herrera will want to rectify that, and a bad game against Queretaro will not be tolerated.
Queretaro went undefeated its first 3 games, and was very close to Atlas in the relegation battle, until they lost at home 2-0 against Tigres. Queretaro was simply overwhelmed by a superior squad that is on a hot streak. Sergio Bueno has a tough road ahead of him, his team is already 5 points behind Atlas. A loss against America would be devastating.
America vs Queretaro 2013 Prediction
The America vs Queretaro game will be a tight encounter between two teams that need points, one for prestige, the other because it wants to remain in the Liga MX. However, the teams have different priorities, America will settle for nothing less than a win, while Queretaro would be ecstatic if it earned just 1 point. Herrera will play his men in an offensive formation, while Queretaro will play defensively. I predict the America vs Queretaro match will end in a 2-0 win for America, which will get them back on track.
America vs Queretaro Television
The America vs Queretaro match will be televised on Univision on Saturday, February 2, 2013 at 6 PM Eastern.