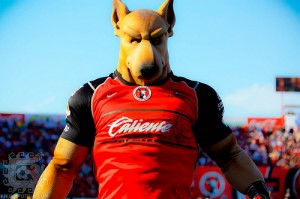 Week 4 of the Liga MX had interesting matches, where the wins by Tigres, Xolos, and Atlas were the highlights of the week.  After 4 rounds of play, the Clausura 2013 is beginning to take form with teams like Tigres, Xolos, America, and Cruz Azul taking possession of the league.  Remember, FutnSoccer will post a weekly article with the 'Players of the Week'.  We will analyze the best player in the following positions: Goalkeeper, Defender, Midfielder, and Forward.  Moreover, we will also mention who were the overall 'Best Player of the Week', and the 'Team of the Week'.  Come back every week after the games are done to read our analysis, and please give us your feedback!
The Numbers:
Week 4 of the Clausura 2013 of the Liga MX had a total of 9 games; 8 wins, and only 1 tie.  There were a total of 28 goals, which translates to a good average of 3.1 goals per game.  Cruz Azul and Atlante are the teams that scored the most with 4 goals each, while Santos, Cruz Azul, Tigres, Xolos, and Pumas did not receive any.
Players of the Week by Position:
Goalkeeper – Miguel Pinto from Atlas obtains the title of best keeper of the week for the second time this season after his great show against Club America.  Sure, a huge part of his success in that game was due to the 3 bars behind him, but his actions were crucial in preventing the powerful America defense from scoring in the 2nd half, thus allowing Atlas to win 2-1 and have a 2 point advantage over Queretaro in the relegation fight.
Defender – This section would normally go to a defender which allowed his goal to stay a clean-sheet, but in this case it will go to two defenders which gave their team the win.  Defenders Diego Ordaz and Luis Venegas from Atlante had a bad game defending their goal (allowed 3 goals), but these two scored goals in the 90th and 92th minute to change a losing 2-3 score to a 4-3 win.
Midfielder – Fernando Arce has been a key player for the Xolos Tijuana squad the moment he set foot on the team.  He was one of the most important players last season when they won the title, and has been key in the 19 regular season games without a loss.  On Saturday night against Pachuca, Arce lead his midfield to a possession of the ball which Pachuca could not break.  This allowed Xolos to win 2-0, to keep a clean sheet, and to begin the season with a perfect 4 out of 4 wins.
Forward – There were a lot of goals during Week 4 (28), but only one forward was a real game changer.  Atlante all-star signing, Joaquin Lavirrey, played an outstanding match in the phenomenal last minute 4-3 win over Jaguares.  The forward scored the first 2 goals for his team, plus had an assist in the 3rd goal which made it a temporary 3-3 tie in the 90th minute.
Best Player of the Week:
His team may not be doing well, but this player has class, talent, and goals.  Joaquin Lavirrey scored his first two goals in the Liga MX after his transfer from Cagliari.  He showed us what he is capable of, plus, his two goals and assist were crucial in Atlante's first 3 points in this young season.  If he keeps scoring, Atlante will have a chance to fight for a playoff seed, or at least move-away from the relegation zone.
Team of the Week: 
Club Atlas was majestic in their victory against powerhouse Club America; they won in front of a packed Estadio Jalisco, defeated what was Mexico's best playing team, and took a 2 point advantage over Queretaro in the percentage zone.  However, I respect Xolos of Tijuana coach Antonio Mohamed when he complained last week that his team is not given enough merit.  Club Tijuana has not lost since the 2-0 defeat in the past playoffs (that's a total of 7 straight WINS!) and has not lost in a regular season game since Week 2 of the Apertura 2012; a total of 19 regular season matches, which is 2 more games than that of a whole calendar season.  Xolos Tijuana has been, and still is the best team in Mexico, therefore, the win against Pachuca makes them the 'Team of the Week'.  This team faces Tigres next week in what will be one of the games of the season, as both squads have won 4 out of 4.