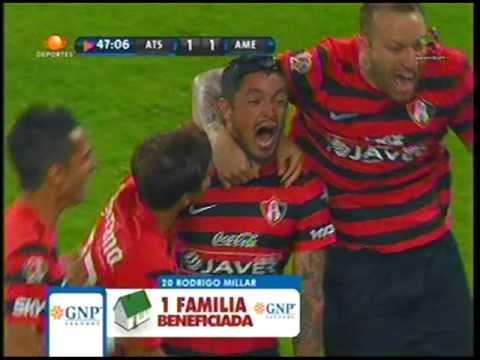 Welcome to the 4th edition of the FutnSoccer Goals of the Week in the Liga MX.  Week 4 of the Clausura 2013 had several important goals that affected the relegation battle, and which once again marked the refereeing crisis in the Liga MX.  Remember that every week FutnSoccer will show a video with what we consider the 'Best Goal of the Week' and the 'Most Important Goal of the Week'.  Come back after the games are done week-after-week to appreciate the quality and importance of these goals!
Best Goal of the Week:
The most elegant and exquisite goal of the week came from the foot of Chivas of Guadalajara striker Rafael Marquez Lugo.  Last week, FutnSoccer gave him a close 2nd place in best goal of the week when he scored on a scissor kick.  On Saturday, when facing his ex-club Morelia, in the 39th minute Patricio Araujo provided the striker with a half-field lob pass.  As the ball flew in front of the Monarcas defender, Marquez Lugo allowed it to bounce twice before controlling it and lobbing it over goalkeeper Federico Vilar's head.  His goals have been the only good things happening in Chivas because his team has been unable to produce points as his team lost the lead in the 89th minute after a non-offside call by the referee.
Notes: Rafael Marquez Lugo – 39′: Chivas 1-1 Morelia
[youtube XtzGMlxU1Nk]
Most Important Goal of the Week:
There were three goals which were in contention for most important goal of Week 4 of the Clausura 2013.  The first in consideration was Rafael Marquez Lugo's goal against Morelia.  His goal would have marked a positive change in direction for his team this season, but Chivas tied 1-1 at the end.  The second goal was by Javier Cortes of Pumas; his goal meant his team's first win of the season.  However, the goal that made the difference in this round of the Liga MX came by the left foot of Chilean Rodrigo Millar.  In the 46th minute, the Atlas player made a wonderful strike from outside the box to score the temporary 1-1 tie against Club America.  His goal gave Atlas the extra push it needed to raise this team and its fans toward victory.  A packed Estadio Jalisco was the epicenter of the best game of the week, and Millar's goal was followed by an Omar Bravo penalty kick which gave the 'zorros' the 2-1 win, and a 2 point lead over Queretaro in the relegation battle.
Notes: Rodrigo Millar – 46′: Atlas 2-1 America
[youtube _bZf_SFZ0IE]