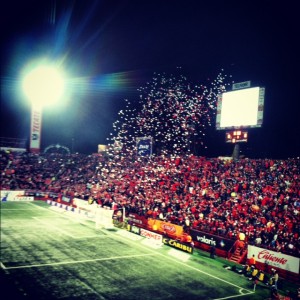 View the Xolos 2-0 Pachuca highlights here.
The Xolos Tijuana vs Pachuca Liga MX 2013 match will be this Saturday, January 26, 2013 (8:00 PM EDT) at the Estadio Caliente in Tijuana.  This Saturday, Xolos will attempt to make it four straight wins to begin the Clausura 2013; or seven straight if we count the Apertura 2012 playoffs.  C.F. Pachuca tied their last game against Queretaro and currently have 4 points, and tonight they will try to end Tijuana's winning attitude.
Three teams have won 3 out of 3 games in this season; America, Tigres, and Xolos.  All three have been great on defense, and good on offense, but only one has kept their form since winning the title.  Xolos of Tijuana has been surprising for some months now, and they want this streak to survive when they play in front of their fans in what will be a cold rainy night in Tijuana.  The team lead by Antonio Mohamed needs all the points through Week 7 (February 15), because on February 19 their Copa Libertadores tournament begins.
Pachuca travels to Tijuana with the goal of leaving with at least one point.  They have only played once at the Estadio Caliente when they lost 3-2 in the Apertura 2011 to give Xolos their first victory in the first division, and under Antonio Mohamed.  The group lead by coach Gabriel Caballero has been good on defense by only allowing 3 goals in 3 matches.  It has been its offense that has suffered because they have not found a permanent striker in their team.  They have scored 3 goals thus far, but only 1 in their past two games.
Xolos Tijuana vs Pachuca Prediction
Club Tijuana has not lost at home since the Clausura 2012 playoffs against Monterrey; that was over 7 months ago!  On Saturday, they will face a difficult team on a cold rainy night, and a 4th straight win may be something difficult to accomplish.  Pachuca tied their last game, but this is a team that is slowly getting in form.  The Xolos Tijuana vs Pachuca 2013 match will end in a 1-1 draw.
Xolos Tijuana vs Pachuca Television
The Xolos Tijuana vs Pachuca match will be televised this Saturday, January 26, 2012 on Unimas (previously known as Telefutura) at 8:00 PM Eastern.