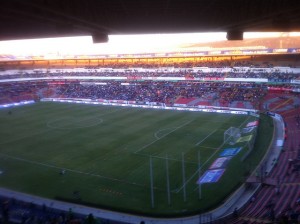 View the Queretaro 0-2 Tigres highlights here.
The Queretaro vs Tigres Liga MX 2013 match will be this Saturday, January 26, 2013 (6:00 PM EDT) at the Estadio La Corregidora.  Queretaro will receive Tigres in one of the games of the week when two of the league's undefeated teams meet.  Both squads are undefeated after 3 weeks, and both squads need the 3 points to accomplish their Clausura 2013 goals.
The Gallos Blancos have played in top form, which has put them above Club Atlas by one point in the relegation battle.  If the team led by coach Sergio Bueno were to win on Saturday, not only would they surpass their points from the Apertura 2012, but they would also have their best start to a season.
Tigres are one of the three teams to watch in this league.  Three wins in 3 games, with 7 goals and only 2 against, this is a team fun to watch, and easy to be afraid of when facing it.  They have a lethal offense lead by Lucas Lobos, Dainilinho, and new arrival Emmanuel Villa.  If Tigres plays with the same intensity as in their first matches, they will easily reach 12 points to begin the season.
Queretaro vs Tigres Prediction
Queretaro has left everyone dumbfounded after 5 points and their aggressive style of play.  They can do big things if they keep that going, but against Tigres they face one of the best teams of the moment.  UANL Tigres is ready for their 4th straight victory, and if their defense and offense do as good as in the first three games, then they should not have a problem.  The Queretaro vs Tigres 2013 match will end 1-2 in favor of the visiting team.
Queretaro vs Tigres Television
The Queretaro vs Tigres match will be televised this Saturday, January 26, 2013 on Univision Deportes at 10:00 PM Eastern.