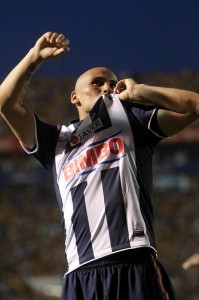 View the Monterrey 3-2 San Luis highlights here.
The Monterrey vs San Luis Liga MX 2013 match will be this Saturday, January 26, 2013 (8:00 PM EDT) at the Estadio Tecnologico.  Monterrey has 4 points after three games into the Clausura 2013, and at home they will attempt to defeat San Luis to reach 7 points and show that they are a playoff caliber team.  San Luis is once again one of the weaker squads in the Liga MX who have only 1 point into the season.  They will suffer to leave Monterrey with a positive result if they do not play their best.
A win for the team lead by coach Victor Manuel Vucetich will demonstrate that his squad is ascending in form.  They have only scored 3 goals after three games, but Monterrey's midfield and defense have been playing well enough to still be a top team in Mexico.  Goals need to come their way quickly if they are in fact a top team, therefore the game against San Luis will be a good parameter to understand their direction.
After two losses and one tie, the reales of San Luis are in for another winless game when they play at the Tecnologico stadium.  This is a poor team, who has weak talent, and without a style of football.  Understanding that Monterrey's offense has been below average this Clausura 2013, San Luis will play defensively and on the counter-attack to try and leave with at least a tie.
Monterrey vs San Luis Prediction
San Luis has everything going wrong this season by having a weak defense and an unstable offense.  They simply do not have the talent needed to become a playoff team.  Rayados of Monterrey are getting into form, and a win at home will show the league that they are in pace to quick points.  The Monterrey vs San Luis 2013 match will end 2-0 in favor of the home team.
Monterrey vs San Luis Television
The Monterrey vs San Luis match will be televised this Saturday, January 26, 2013 on Univision Deportes at 8:00 PM Eastern.