View the Cruz Azul 4-0 Puebla highlights here.
The Cruz Azul vs Puebla 2013 game will be played at the Estadio Azul in Mexico City on Saturday, January 26, 2013 at 6:00 PM Eastern. This Clausura 2013 week 4 match will show us if Cruz Azul can maintain its undefeated run, or if Puebla can add a second win a row.
Cruz Azul is till undefeated after three games in the Liga MX, one home win and two away draws. Now, they come back home in week 4 looking for a win against an opponent that they should be able to defeat. However, even though Cruz Azul is still undefeated, they have yet to play a good match.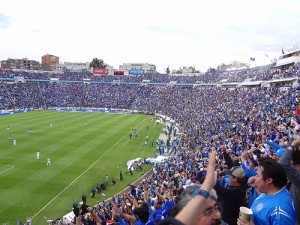 In the 3-3 away draw against Morelia, Cruz Azul's defense was horrible, and the offense only scored so many goals because Vilar had a bad day. In their 2-1 home win against San Luis, Cruz Azul was down in the second half, and only ended up winning due to two magnificent goals by Gimenez. Last week at the Estadio Omnilife against Chivas, Cruz Azul didn't do much but still ended with the 1-1 draw. Against Puebla at home, Cruz Azul must play well and win.
Lapuente has a simple goal for Puebla, play well enough to avoid a freak relegation this season, and be slightly safe for next year's relegation battle. Playoffs are not expected, doing well in the Copa MX isn't either. Just get between 18-22 points, anything else is gravy.
Puebla appears to be doing that so far, having earned 4 points in 3 matches so far, against fairly stiff opposition  Xolos, Toluca & Santos. Lapuente will be more than happy to come out of the Estadio Azul with a draw, and will be ecstatic with a win. Expect Puebla to play a defensive formation.
Cruz Azul vs Puebla 2013 Prediction
Vazquez knows that his team needs to get a good win under its belt, and defeating a feisty Puebla in front of the home crowd would be perfect. Cruz Azul is expected to play an attacking formation that keeps Puebla on the defense. Lapuente will set Puebla in "bunker-ball" mode, hoping for a 0-0 or 1-1 draw. I believe the Cruz Azul vs Puebla match will end in a 1-1 draw– Lapuente will be happy.
Cruz Azul vs Puebla 2013 Television
The Cruz Azul vs Puebla match will be shown on Azteca America on Saturday, January 26, 2013 at 6 PM Eastern.
View the Cruz Azul 4-0 Puebla highlights here.