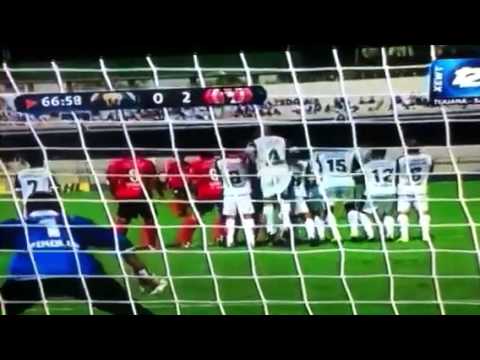 Welcome to the third edition of the FutnSoccer Goals of the Week.  Week 3 of the Clausura 2013 was slim in extraordinary goals, but there were a few that made our job difficult in choosing the Liga MX goal of the week.  Remember that every week FutnSoccer will show a video with what we consider the 'Best Goal of the Week' and the 'Most Important Goal of the Week'.  Come back after the games are done week-after-week to appreciate the quality and importance of these goals!
Best Goal of the Week
Fernando Arce from Xolos of Tijuana made a majestic long-distance free kick shot at the Ciudad Universitaria.  When Xolos were winning 1-0, Pumas was pushing with everything to prevent another loss in the season.  Arce then made a free kick shot which hit the goalie's top left corner to make the game 2-0.  This goal will undoubtedly be one of Tijuana's best of the season, and one of the year's top goals.
Notes: Fernando Arce – 66′: Xolos 2-1 Pumas
[youtube RmAhkZdCJRk]
Most Important Goal of the Week:
Queretaro has been fighting for every inch since the Clausura 2013 began to remain in the first division.  They are still undefeated after 3 weeks, and currently have 5 points.  The most important goal of the week was not outstanding by any means, but the significance it has on the possible relegation outcome is outstanding.  Luis Angel Landin has begun the season on a scoring streak, and he scored the first and only goal for Queretaro in the 1-1 tie against Pachuca.  This goal gives Gallos Blancos a 1 point advantage over Atlas both in the regular standings and in the relegation percentage battle.  If their good form lasts over the entire season, we could be saying that Atlas will be the Ascenso MX's newest member.
Notes: Luis Landin – 5': Queretaro 1-1 Pachuca
[youtube OGlTfad1SrM]