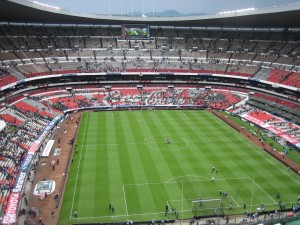 View the America vs Altamira 2-0 highlights here.
The America vs Altamira Copa MX 2013 match will be this Wednesday, January 16, 2013 (10:00 PM EDT) at the Estadio Azteca.  Tonight, Club America begins their participation against Group 1 rivals, Altamira.  Group 1 of the Clausura 2013 Copa is formed by Necaxa, Neza, America, and Altamira.  Necaxa won their first game 3-0 vs Neza, and currently lead the group, which along with America are the favorites to access the playoff round.
Club America was 2nd in their group during the first edition of the Copa MX, and therefore they did not qualify into the playoffs.  This season, they began the Liga MX with two wins, and they are in good form to compete in the Mexican cup.  America has a good 'B' squad to compete for big things in this tournament, but their success will depend on their mentality and importance towards the Copa MX.  Some first-team caliber players that may see action during the game are Francisco Rodriguez, Efrain Juarez, Adrian Aldrete, Christian Bermudez, and Narciso Mina.
While America sits on top of the Liga MX, Altamira has only gathered 1 point after two matches in the Ascenso MX.  This is not a team with great chances of winning promotion into the Liga MX, which also shows that they may not have what it takes to go far into the Copa MX 2013.  One thing is for sure though, Altamira has never faced America before, therefore their fans and players will give the extra push to try to defeat one of Mexico's biggest teams.
America vs Altamira Prediction
Club America will play with the bench and reserves, but this is a strong squad who will take this cup seriously.  Players like 'Hobbit' Bermudez will use these games to obtain first-team practice with the hopes of gaining a role in the starting line-up.  Altamira will play with a lot of enthusiasm because they play a big-name team, however they will not have enough to come out with a victory out of the Azteca.  The America vs Altamira 2013 match will end 2-0 in favor of the home team.
America vs Altamira Television
The America vs Altamira 2013 match will be televised this Wednesday, January 16, 2013 on Galavision at 10:00 PM Eastern.
View the America vs Altamira 2-0 highlights here.