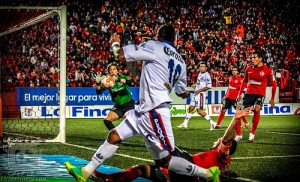 The Tigres vs Atlante 2013 Week 2 match will be this Sunday, January 13, 2013 (7:00 PM EDT) at the Estadio Andres Quintana Roo in Cancun. Atlante lost in the first week of the season against Pachuca 2-0, but they will try to revert this on their Clausura 2013 home opener.  UANL Tigres was dynamic in their first game by defeating Jaguares 3-0 with an Emmanuel Villa hatrick, and today they have a good possibility of reaching 6 points into this young season.
Atlante comes into the game with the pressure of obtaining points; if they do not, their season could be over. Another loss indicates this is a team with no playoff expectations who is bound for the lower posititions in the regular standings. Atlante will have a difficult opponent who they need to defeat in their stadium in which they have only won two of their last nineteen matches.
Opposite to Atlante, Tigres began the season with very high expectations and great football. Emmanuel Villa scored a hatrick in his debut, demonstrating the offensive strenght of this team. Against Atlante, Ricardo Ferreti's team has to play a very offensive game if they want to earn the 3 points.
Tigres vs Atlante Prediction
Atlante is an improved squad as opposed to the Apertura 2012, however, this is still a team with a weak midfield, and a poorly talented defense. Coach Ricardo Lavolpe will have to work his magic to lead this team into the playoffs, and also to defeat Tigres. With the Week 1, 3-0 win over Jaguares, Tigres demonstrated what they are capable of, and what opponents will fear all season long. Tigres has an excellent defense and a powerful offense which will take its second win in Cancun. The Tigres vs Atlante 2013 match will end 2-0 in favor of the visiting team.
Tigres vs Atlante Television
The Tigres vs Atlante 2013 match will be televised this Sunday, January 13, 2013 on Univision Deportes Network at 7:00 PM Eastern.