Week 2 of the Liga MX was average in quality, however there were some great performances from players that influenced the results of their games.  Remember, FutnSoccer will post a weekly article with the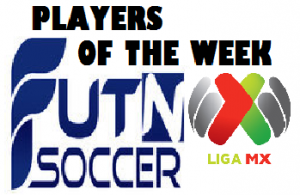 'Players of the Week'.  We will analyze the best player in the following positions: Goalkeeper, Defender, Midfielder, and Forward.  Moreover, we will also mention who were the overall 'Best Player of the Week', and the 'Team of the Week'.  Come back every week after the games are done to read our analysis, and please give us your feedback!

The Numbers:
Week 2 of the Clausura 2013 of the Liga MX had a total of 9 games; an incredible 8 wins and only 1 tie, with a total of 20 goals or an average of 2.22 goals per game. Tigres is the team that scored the most with 3 goals (same as Week 1), while America, Santos, Xolos, Monterrey, and Atlas did not receive any.
Players of the Week by Position:
Goalkeeper – Veteran Santos Laguna keeper, Oswaldo Sanchez, was the player of the game in his team's 2-0 victory over Chivas. While facing his ex-team, Sanchez made numerous terrific saves in the second half of that game. The two most memorable saves were after a long-distance shot from Marco Fabian, and also a last minute penalty kick missed by Luis Perez.
Defender – Javier Gandolfi from Xolos Tijuana was a good as always when his team defeated rivals Leon. Gandolfi was important in keeping Leon from taking a single shot on goal, but also his presence shows that Xolos has not lost the defensive form that led them to their first title just over a month ago.
Midfielder – Christian Gimenez from Cruz Azul looked 5 years younger after his performance in his team's 2-1 victory against San Luis. 'Chaco' made two terrific goals which were voted the FutnSoccer best goals of the week, and also was busy supplying his offense with speed and passes.
Forward – There really is only one forward which over-achieved during Week 2.  Oribe Peralta scored the two goals for his team in Santos Laguna's home opening week win against Chivas. Although he was not the most crucial player in that game, he did make two great goals which remind us about the 'Oribe' that won the Olympic gold medal in London 2012.
Best Player of the Week:
The two majestic goals scored by Chaco Gimenez against San Luis were enough to determine he is the Liga MX Week 2 player of the week. Cruz Azul has had difficulty finding a consistent goal scorer for some time now, and on Saturday night Gimenez showed that he could become a goal scoring midfielder when he needs to be. He led this team to victory with quality goals, but most importantly, this is a player that makes a big difference in a team urged for a title.
Team of the Week:
And the prize for Week 2 team of the week goes to… Club Atlas and Queretaro. Yes it is not one team, but these two squads earn this for their elevated form and their wins. Atlas and Queretaro are deep into the relegation battle, and while last season they looked horrendous, by Week 2 they already have 4 points plus are styling good quality soccer. If they prolong their current form, these two teams could be fighting for a playoff seed and even better, they could push another team (let's say, Puebla), into the Ascenso MX.