View the Cruz Azul 2-1 San Luis highlights here.
The Cruz Azul vs San Luis 2013 Liga MX week 2 match will take place on Saturday, January 12th at 6:00 PM Eastern at the Estadio Azul in Mexico City. Both teams are coming off of draws: Cruz Azul tied 3-3 against Morelia in an exciting away game, while San Luis grinded out a 1-1 score at home against Santos. Will one of these two teams find their first win of the season during this match?
Cruz Azul needs the win
On paper, San Luis appears to be a weaker opponent that Cruz Azul should be able to defeat at the Estadio Azul. If Cruz Azul wants to have a better participation than it did last season, it must avoid the sluggish start it had in the Apertura 2012, where Cruz Azul played pretty bad for the first 8-9 weeks. A win against San Luis would be a great start, and could be used to set the momentum for the rest of the early season.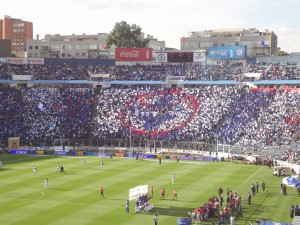 With the additions of forward Teofilo Gutierrez and midfielder Nicolas Bertolo, Cruz Azul now possess a fierce offense that should help avoid the abysmal scoring Cruz Azul had in the Apertura 2012 (and they got rid of Omar Bravo, that's always a good thing for any team!). At home, against San Luis, coach Vazquez should expect nothing else than a victory and the first three points of the season.
San Luis: perennial mid-table squad
San Luis, once again, is starting a season without any expectations of making the playoffs, nor with the difficult task of fighting off relegation. The Reales are expected to be a mid-table team, and new coach Eduardo Fentanes is probably tasked with just getting enough points to avoid relegation issues next year.
San Luis had a solid performance against Santos, getting a 1-1 draw that gives the Reales the first point of the season. Against Cruz Azul, San Luis is very much looking to get just a draw, and a win would be an unexpected, but welcome result. San Luis added players like  Omar Esparza, Mauro Matos, and Javier Muñoz Mustafa, which should make the team a little bit better than it was last season. Will it be enough for a surprising run to the playoffs?
Cruz Azul vs San Luis 2013 Prediction
Cruz Azul will be looking for the win from the very first minute of the match, San Luis will be looking for the 0-0 draw. One side will attack constantly and possess the ball, while the other will defend with 10 men and hope to score a fortuitous goal on the counterattack. I expect that Cruz Azul's revamped offense will be too much to handle for San Luis. The Cruz Azul vs San Luis match will end in a 2-0 victory for Cruz Azul.
Cruz Azul vs San Luis 2013 Television
The Cruz Azul vs San Luis match will be televised on Azteca America this Saturday, January 12th, 2013 at 6:00 PM Eastern.
View the Cruz Azul 2-1 San Luis highlights here.