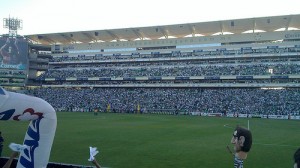 View the Chivas 0-2 Santos highlights here.
The Chivas vs Santos 2013 match will be this Friday, January 11, 2013 (10:30 PM EDT) at the Estadio Corona TSM.  New Chivas of Guadalajara coach, Benjamin Galindo, returns to face his ex-team just over a month after being fired from Santos Laguna.  He will look to gain revenge by leading an injured and suspended-prone Chivas to victory.  Santos is still on the learning stages with their new Portuguese coach, Pedro Caixinha, and Friday's game will be a good parameter to analyze the direction of this team.
Santos Laguna will have their Clausura 2013 home-opener this Friday when they receive Chivas of Guadalajara.  The fans will finally get a take on the new identity and style of their team under the arms of Caixinha.  The Portuguese coach has mentioned that his team will be dynamic, will focus on the attack, and will look to have possession of the ball.  Those characteristics were still not prevalent last week when they tied a weak San Luis, however, they will have a good chance at home against Chivas who is missing key players.
Without Miguel Sabah or Rafael Marquez Lugo, Chivas will put all of its pressure on young talent Erick Torres to score goals.  This seems to be a repeating story for Chivas who last season also had to depend on this young player.  Nonetheless, Galindo will have to play with what he is given on his return to the TSM, and they will have a good chance to create points if the defense plays a good game, and the midfield led by Marco Fabian is productive.  Again, Chivas depending on Torres for goals, and waiting for Fabian to appear is a come-and-go déjà vu for this team.
Chivas vs Santos Prediction
Chivas of Guadalajara is hungry for points, but this will be difficult to obtain because they play away, against a good squad with better talent.  Moreover, Chivas is missing its two biggest offensive threats in Sabah who is suspended for two matches, and injured Marquez Lugo.  To make things worse, captain and defender Hector Reynoso is also out with an injury while midfielder Jorge Enriquez will be doubtful.  Santos has a full squad, and while they lost points last week by tying 1-1 against San Luis, I do not see this happening again.  The Chivas vs Santos 2013 match will end 1-2 in favor of the home team.
Chivas vs Santos Television
The Chivas vs Santos match will be televised this Friday, January 11, 2013 on Univision Deportes Network at 10:30 PM Eastern.
View the Chivas 0-2 Santos highlights here.