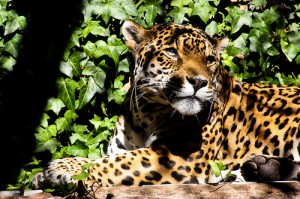 View the America 2-0 Jaguares highlights here.
The America vs Jaguares 2013 match will be this Friday, January 11, 2013 (8:30 PM EDT) at the Estadio Victor Manuel Reyna in Chiapas.  Jaguares of Chiapas will receive the powerful Club America in their home opener of this Clausura 2013 of the Liga MX.  They were gravely defeated by Tigres 3-0 in the first week, and against America they will have another difficult task.  America defeated Monterrey 2-1 in Week 1, and they have a good opportunity to begin a winning streak when facing Jaguares.
Jaguares will be presenting its new elegant, all-black uniform on Friday night, and what better way to celebrate this other than defeating Club America.  To do this, Jaguares cannot miss scoring opportunities like they did against Tigres where although they lost 3-0, at times they had good possession of the ball.  Last season during the Apertura 2012, Jaguares had a terrible first half, allowing an immense amount of goals.  It seems things will be the same this season after receiving three against Tigres, but if the team recuperates the form they had in the second half, this could be a playoff-caliber team.  Season is young, there's time for improvement.
Club America demonstrated last week against Monterrey that they are a team that will fight for the win all 90+ minutes of a match.  Their late game-winning penalty is a sign of commitment, and mentality that will lead this team into the playoffs.  Against Jaguares, Miguel Herrera will use the same lineup as Week 1, (except goalie Moises Muñoz who returns after an injury), and if they obtain the three points, this will be a team to consider for the title.
America vs Jaguares Prediction
Jaguares lost by three goals during the first week after facing a tough opponent with a good defense and good offense.  On Friday they face another opponent with a good defense, but with a much greater offense.  Let's not forget that Jaguares had the worst defense and team throughout the first 4 games of last season, therefore, I see no signs that this will change for this Clausura 2013.  Club America is strong, a real threat to opponents, and has the luxury of benching high-caliber players like Narciso Mina and Francisco Rodriguez; I see too much talent and great soccer in the team from 'coapa' for them to lose this one.  In the America vs Jaguares 2013 match, the visiting team will take a 3-1 win to reach 6 points early into the season.
America vs Jaguares Television
The America vs Jaguares match will be televised this Friday, January 11, 2013 on Azteca America at 8:30 PM Eastern.
View the America 2-0 Jaguares highlights here.