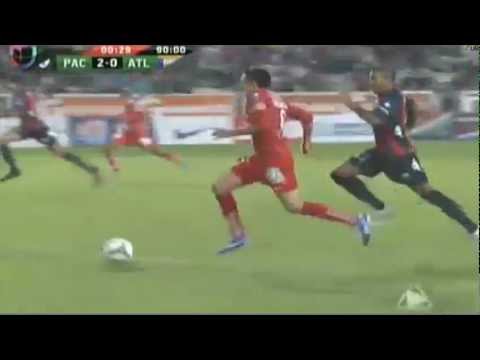 Every week FutnSoccer will show a video with what we consider the 'Best Goal of the Week' and the 'Most Important Goal of the Week'.  Come back after the games are done week-after-week to appreciate the quality and importance of these goals!
Best Goal of the Week:
In the Pachuca vs Atlante game, Hector Herrera made a wonderful sprint against an opposing defender on the left wing of the field.  He controlled a long ball and after dribbling from half the field, he approached Atlante's goalkeeper with the ease of a world-class player.  He chipped the ball over Villalpaldo's head with a left footed shot and scored the second goal in the 90th minute to seal his team's 2-0 victory.
Notes: Hector Herrera-90′; Pachuca 2-0 Atlante
[youtube nq7weD5QNNA]
Most Important Goal of the Week:
While losing 1-0 against UNAM Pumas, Club Atlas was in a bad position considering Queretaro had tied against Leon the previous day.  Atlas and Queretaro are head-to-head rivals in the relegation battle therefore any points lost could signify a permanent trip into the Ascenso MX.  With a defeat, Atlas would automatically fall to last place in the relegation percentage table, but in the 78th minute fan-hated Omar Bravo took advantage of a good cross to score the final 1-1 tie in his debut.  This goal means the world to Atlas because they remain tied with Queretaro, keeping that battle a must-watch for the rest of the season.
Notes: Omar Bravo-78′; Atlas 1-1 Pumas
[youtube _fyBBYWgclk]