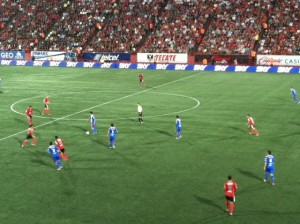 The Xolos Tijuana vs Puebla 2013 match will be this Sunday, January 6, 2013 (5:00 PM EDT) at the Estadio Cuauhtémoc in Puebla.  Xolos returns to the Liga MX as reigning champions as just over one month ago they won the Apertura 2012 of the Liga MX.  On Sunday, they will begin their run to defend that title, and the game against Puebla will be a good parameter to understand if Tijuana is still on 'championship mode'.  On the other hand, Puebla begins a new era under veteran coach Manuel Lapuente, and they will look to halt any Tijuana title celebrations with a win at home.
Puebla has had a bad streak of bad seasons which in return have put them in a bad list of 'relegation contenders'.  Their goal for this Clausura 2013 will not be to qualify to the playoffs, but rather, it will be to create enough points in order to leave the relegation zone.  To accomplish this, all-star coach Manuel Lapuente was brought in, along with talented players Alberto Medina, Segundo Castillo, and Felix Borja.  These people make Puebla into a more balanced and talented squad, however, it will take mentality and consistency to accomplish their goal.
Xolos Tijuana opens a new season full of excitement as they will play to defend their recent title, and because they will play in the Copa Libertadores 2013.  There is plenty of excitement in the border town as fans already sold-out the season tickets called 'Xolopass', even when their first home game is next week, and not against Puebla.  Club Tijuana will face their new journey with practically the same group as last season, with the exception of new signings Noe Maya and Daniel Marquez.  Xolos has five Liga MX games before the start of the Copa Libertadores, therefore they must take advantage of those five matches in order to have a clear chance at joining the playoffs and defending the title.
Xolos Tijuana vs Puebla Prediction
Tijuana did not lose a single player from its title run, meaning, there should be no reason for this team to keep playing like they were just a month ago.  With the best defense in the Liga MX, a strong midfield, and an attack led by Fidel Martinez and Duvier Riascos, Xolos should be potent and fierce.  Puebla is a good team with a better squad than last season, but Tijuana should be victorious as talent and mentality will win this game.  The Xolos Tijuana vs Puebla game will have a 1-0 result in favor of Tijuana.
Xolos Tijuana vs Puebla Television
The Xolos Tijuana vs Puebla match will be televised this Sunday, January 6, 2013 on Azteca America at 5:00 PM Eastern.