The Chivas vs Toluca match will be held at the Estadio Omnilife on Sunday, January 6th, 2013 at 6 PM Eastern. Toluca is almost exactly the same team we saw just 1 month ago when they lost the Liga MX championship against Xolos: same coaches, players, etc. Chivas on the other hand, is once again debuting new coaches and a couple of new players. This match is a true contest between a well-developed plan, and a team that apparently does things on the whims of an egotistical owner.
Chivas fired Van't Schip three days ago…
After Vergara fired Cruyff in early December, everyone knew that Van't Schip's time with Chivas was limited, it was only a question of when. It could have been soon after Cruyff himself was fired, in order to give the incoming coach enough time, or a couple of weeks into the Clausura 2013, after Vergara was fed up with mediocre results. Instead, Vergara took the worst possible option and opted to fire Van't Schip just three days before the season opening match against Toluca. Benjamin Galindo had just three days to prepare, we shall see how long he lasts with the Chiverio.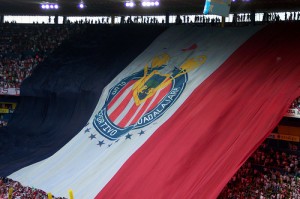 Some good things were done over the December break though, Miguel Sabah and Sergio Perez were added to the roster. These two experienced players should add some badly needed offensive firepower to a Chivas squad that averaged 1 goal per game in the Apertura 2012. Nonetheless, I believe that Vergara committed a huge mistake with the timing of his 'personnel changes'; Galindo had little time to prepare, and is likely under extreme pressure to perform quickly.
Toluca – nice and steady wins the race
Meza led Toluca to a fantastic season in the Apertura 2o12, ending the regular season in first place, making it to the final championship series, but ultimately succumbing to a much superior Xolos squad. Toluca ownership took notice, and decided to basically keep the same squad, hoping to repeat the success of the previous season. However, Toluca will have the difficult task of competing in the Copa Libertadores at the same time, it will definitely test the depth of this squad.
Chivas vs Toluca 2013 Prediction
Galindo will certainly want to start off with a win, unfortunately for him, he will face one of the best teams in the Liga MX. Meza will play a smart match, placing Toluca in a defensive formation and hoping to capitalize on the mistakes that Chivas is prone to commit. I expect it will be an attractive match, that should provide plenty of entertainment, ultimately, in the Chivas vs Toluca game, Toluca will come out with a 2-1 away win.
As an extra prediction, I believe that Galindo will be let go around week 8, lets see if I'm right…
Chivas vs Toluca 2013 Television
The Chivas vs Toluca match will be shown on Telemundo on Sunday, January 6, 2013 at 6 PM Eastern.