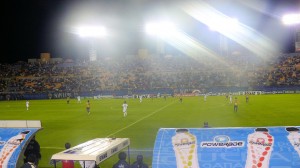 The Santos vs San Luis 2013 match will be this Saturday, January 5, 2013 (10:00 PM EDT) at the Estadio Alfonso Lastras.  The Clausura 2012 champions -Santos- will try to improve things this season as in the Apertura 2012 they were in weak form and failed to defend the title, as they did not qualify to the playoffs.  San Luis is a team that has no strong favoritism to be a playoff squad or even a relegation candidate, but they will use this season to try to depart from the last positions in the relegation percentage zone.
San Luis will have the debut of their new coach, Eduardo Fentanes, and they hope they can begin the season by gaining points in order to distance themselves from the relegation zone.  There were a great number of transfers during the offseason for the Reales, in which Omar Esparza, Mauro Matos, and Javier Muñoz Mustafa were the most important signings.  The squad has more depth and talent than last season, however, it will be interesting to know if it is enough with what they have to be a mid-table team during this Clausura 2013 of the Liga MX.
Santos Laguna fired their coach Benjamin Galindo shortly after the end of their disastrous Apertura 2012 season.  On Saturday night a new era begins under the realm of Portuguese coach, Pedro Caixinha.  Caixinha is not only a new coach, but also the sign of a new direction for the club because Santos traded stars, Daniel Ludueña and Christian Suarez, to Pachuca.  In the meantime, they signed key players like Nestor Calderon, and Mauro Cejas, which they hope will allow the team to be versatile and explosive in the attack.
Santos vs San Luis Prediction
Santos has a new coach, and several new attackers.  These will give the team a different identity that will need time to be in good form.  However, San Luis remains a below-average team and although Santos may not be on their best night, they will have the necessary talent to win the match.  The score in the Santos vs San Luis game will be a 2-1 win for Santos.
Santos vs San Luis Television
The Santos vs San Luis match will be televised this Saturday, January 5, 2012 on Univision Deportes at 10:00 Eastern.