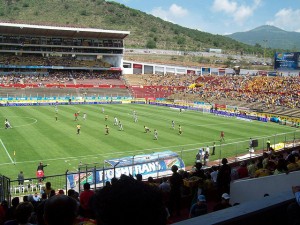 View the Morelia 3-3 Cruz Azul highlights here.
The Cruz Azul vs Morelia match will be this Friday, January 4, 2013 (8:30 PM EDT) at the Estadio Morelos.  Monarcas and the 'cementeros' will be in charge of opening the Clausura 2013 of the Liga MX in a game between two strong squads with high hopes of being title candidates.  Last season during the Apertura 2012, Morelia finished in 5th place with 27 points, while Cruz Azul had 26 points and ended in 6th.  Although Morelia and Cruz Azul qualified for the playoffs, they were eliminated in the first round by Club America and Leon, respectively.
Monarcas Morelia is coached by Ruben Omar Romano who takes charge on its second tournament in a row.  The leader of their offense, Miguel Sabah, left the team for a return to Chivas of Guadalajara, however, the team was reinforced with several players.  The top offseason movement was the signing of Chilean goal-scorer, Hector Mancilla, who arrives after a quick and poor spell at Atlas.  Meanwhile, the team also signed center midfielder Fernando Morales from Pumas, winger Jose Maria Cardenas from Club America, and striker Sergio Santana from Atlas.  This is a squad with more depth as opposed to last season, and with an offense that includes Mancilla, Joao Rojas, and Jefferson Montero, Cruz Azul will have to be on its best night.
After a heartbreaking playoffs loss against Leon last season, Cruz Azul is ready to improve on what was done just a couple of months ago.  The team lead by Guillermo Vazquez had one of the top defenses the previous tournament, but its offense underperformed and was inconsistent.  To improve on its offense, Cruz Azul made two terrific offseason signings which will nevertheless make this team into one of the most feared squads of the Liga MX.  First, they signed forward Teofilo Gutierrez who has been a starter of late for the Colombian national team.  He will share the attack with Mariano Pavone, and players like Pablo Barrera, Christian Gimenez, and Javier Aquino will provide these two with the plays they require.  Finally, the team also signed Argentine midfielder Nicolas Bertolo who was a quick winger with Italy's Palermo.
Cruz Azul vs Morelia Prediction
Cruz Azul has a stronger squad at every point of the field, however, they face Morelia who has a dynamic offense, and who will play in front of its fans.  There is a chance that new Cruz Azul signings Bertolo and Gutierrez do not play this match, therefore I predict Morelia will win.  This is because the Monarcas offense has played longer together, and even Mancilla who is new to the team is a Mexican league veteran, therefore he will not have a difficult time accommodating into his new team.  The score in the Cruz Azul vs Morelia match will be a 2-1 victory for Monarcas.
Cruz Azul vs Morelia Television
The Cruz Azul vs Morelia Clausura 2013 opening match will be televised on Azteca America this Friday, January 4, 2013 at 8:30 PM Eastern.