View the Xolos Tijuana 3-0 Leon highlights here.
The second leg of the Xolos Tijuana vs Leon liguilla semifinals will take place on Sunday, November 25, 2012 (7:30 PM EDT) at the Estadio Caliente in Tijuana.  The #3 seed Leon defeated the #2 seed Xolos in the first leg in Leon by a score of 2-0.  On Sunday, Tijuana will have the support of its fans but also the pressure to score two goals and receive none to qualify into the Apertura 2012 finals.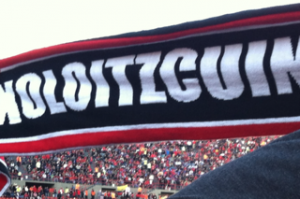 Xolos of Tijuana have had the best defense in the Mexican soccer league up to the playoffs which allowed them to create a streak of seventeen straight games without a loss.  However, the team that defeated them before the streak began and who made it end was Leon.  Leon beat Club Tijuana 4-0 in the second week of the Liga MX, and also last Thursday, creating a sense of domination over Xolos.
Xoloitzcuintles must win by a 2-0 or a 4-1 score on Sunday in order to make it to the finals.  Since receiving a goal means they must score four, then a 2-0 score is the most achievable;  however, Leon is the most powerful offense in the league and has scored at least one goal in every single game it has played this season.  Remarkable nonetheless for any team, especially for one which was promoted into the first division this season.  Like I have mentioned, streaks end, just like Leon ended Tijuana's 17 games without a loss.  For Xolos to have a chance, they must end Leon's streak of 20 straight games with scoring a goal.
The 'panzas verdes' were dominated for great parts of the game during the first leg.  For a team that is used to controlling their match, this was out of line, yet, they were able to make two goals in a lapse of three minutes when the Xolos defense lost concentration.  On Sunday, Leon will play even more defensively then they did on Thursday night, however, they have the talent and strength to score at least one goal at the Caliente stadium.
Midfielder Eisner Loboa will miss the second leg, while defender Ignacio Gonzalez is questionable.  Loboa is key to Leon's strategy, however he is a bench player therefore he will not cause many problems to Gustavo Matosas' lineup.  However, Gonzalez is the starting defender and has been key figure to this team, but his substitute Javier Muñoz Mustafa has the talent and experience to fill in.  For Xolos, Leandro Augusto is still injured and may miss Sunday's game.
Xolos Tijuana vs Leon Prediction
The second leg of this semifinals series will be extremely complicated for Tijuana.  They need to win 2-0, or if they receive a goal, by 4-1 in order to pass to the final.  Leon has scored in every game they have played in the first division, and if we add when they were in the second division, they have scored in more than 40 straight games.  Tijuana will win on Sunday, the crowd will be louder than ever, and the rivalry between these two clubs will get bigger.  Also, Leon will score a goal, and pass into the finals, enlarging the success to their Cinderella season.  The score in the Xolos Tijuana vs Leon game will be 2-1 for the home team.
Xolos Tijuana vs Leon Television
The Xolos Tijuana vs Leon liguilla second leg semifinal will be televised on Univision Deportes on Sunday, November 25, 2012 at 7:30 PM EDT.
View the Xolos Tijuana 3-0 Leon highlights here.