The second leg of the America vs Toluca liguilla semifinal match will take place this Sunday, November 25, 2012 at 1 PM EDT at the Estadio Nemesio Diez. Toluca took a 2-0 win at the Estadio Azteca this past Thursday, essentially assuring itself a shot at the championship match. Club America needs to defeat Toluca by a score of 3-1, or any other score where they win by a 2+ goal margin and score more than 4 goals.
Toluca played a perfect match at the Estadio Azteca, playing a smart, defensive game that relied on counterattacking. Toluca defended itself perfectly, basically nullifying all of America's attempts at scoring. The 2-0 victory means that all Toluca needs to do to get into the championship match is win, draw, or even lose by a 2-0 score.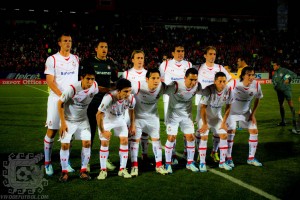 During the regular season and the liguilla quarterfinals, Toluca never lost a single match at home, and was the second best home team (Leon is first). Playing at he Estadio Nemesio Diez, Toluca has not allowed more than a single goal per game. America will have quite a challenge trying to break this streak.
America must score at least three goals, and it won't help that Chucho Benitez is unlikely to be at a 100% level, due to a knock he sustained in Thursday's match. To put it plain and simple, America better start thinking about what they are going to do next season, because they will not be able to overcome Toluca.
Toluca is a great team that plays solid defense, and takes advantage of its great counterattacking skills. In the second leg of the quarterfinal match against Chivas, Toluca let Chivas attack, and tore them apart with counterattacks, eventually winning 3-0. Expect a similar type of game in the America vs Toluca semifinal game.
America vs Toluca Prediction
The America vs Toluca match will show us a desperate America looking for goals, and a Toluca squad that will take advantage of this by counterattacking. I definitely don't see America scoring three goals and defeating Toluca, in fact, I suspect Toluca will actually win the game. In its search for goals, America will leave too many open spots in the back, and Toluca will score. The final score will be a 2-1 victory for Toluca. Toluca will get a shot at winning the Liga MX championship, while America will have to wait yet one more season.
America vs Toluca Television
The match will be televised on Univision on Sunday, November 25, 2012 at 1 PM EDT.