View the America 1-2 Morelia highlights here.
The second leg of the America vs Morelia Liga MX quarterfinal playoff will be held on Saturday, November 17, 2012 at 6:00 PM EDT at the Estadio Azteca. America won the first leg by a score of 2-0, and would only be eliminated by Morelia if the Monarcas score at leas three goals, and win by a +2 goal margin. Miguel Herrera, Benitez, and the rest of Club America is probably already thinking about the semifinals.
What was expected to be the tightest match-up in the quarterfinal stage of the liguilla, turned out to be anything but. Benitez had yet another fantastic performance and scored two goals for America, essentially guaranteeing America a spot in the semifinals. You can view the highlights of the first leg of the America 2-0 Morelia win here.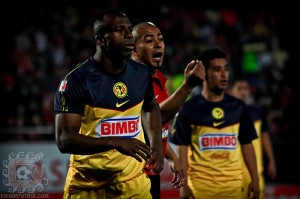 Morelia had a very tough time against America, even though it was playing at home. The match itself was tighter than the score leads you to believe, it is just that America took care of its opportunities, while Morelia struggled in the final attacking third of the field. Sabah never really had any good scoring opportunities, and throughout the match you could see that Morelia's attack appeared incomplete.
Morelia will have to bring in a proven attacker to replace the hole left by Rafael Marquez Lugo, Morelia will not be a serious title contender until it has two attacking men up front, instead of just Sabah.
To further complicate Morelia's slim chances to eliminate America, Aquivaldo Mosquera will be back in the lineup this Saturday. To counter Mosquera's return a little bit, Aldo Leao will also be returning for Morelia; both players were with the Colombian national team on Wednesday (great job with the scheduling Liga MX). I believe that Mosquera is more important to America than Leao is to Morelia, either way, I don't believe it will end up making a difference.
America vs Morelia Prediction
Morelia needs either a 3-1 win, or any other 2+ goal victory where they score more than three goals (4-2, 5-3, etc).  This is an extremely difficult task, considering that Club America allowed less than 1 goal per game at home during the regular season. The America vs Morelia quarterfinal second leg will end with a Club America win: 2-0. America's offense, led by Benitez, will be too much for a Morelia squad that will be desperate to score, and will thus leave gaps in the back.
America vs Morelia Television
The second leg of this quarterfinal match-up will be televised on Univision Deportes on Saturday, November 17, 2012 at 6:00 PM EDT
Note: You can join our newsletter to learn how to watch soccer online.
View the America 1-2 Morelia highlights here.