View the America 2-0 Morelia highlights here.
The first America vs Morelia quarterfinal leg will be on Wednesday, November 14th at 10:00 PM EST at the Estadio Morelos in Morelia, with the return leg on Saturday, November 17th at6:00 PM EST at the Estadio Azteca in Mexico City. It will pit the number 4 seed, America vs the number 5 finisher in the table, Morelia. Only 4 points separated these two during the Apertura, America on 31 and Morelia with 27.
In recent results between these teams, Monarcas beat America 3-1 in Morelia in the Clausura
and in the 2012 Apertura, the two sides drew at the Azteca 1-1. In the last 10 meetings, 7 have
been won by Morelia, 2 have been draws and America with a lone victory back in 2010.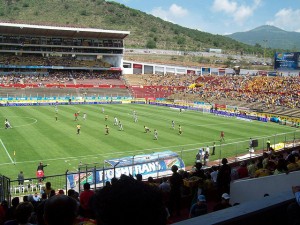 This is the "TV Series," with both teams owned by Mexico's biggest broadcasters. Club
America is one of 2 clubs owned by Televisa (Necaxa being the other one) and Morelia is the
property of TV Azteca.
Individual players to watch will be Chucho Benitez for America, who finished tied with Atlante's Esteban Paredes for the most individual goals at 11. For Morelia, Sabah is coming off a fantastic 2 goal performance on the final day of the season against Santos Laguna.
The Aguilas will be without the services of defenseman Aquivaldo Mosquera, who will be on international duty with the Colombian national side vs Brazil in a friendly. On the other sideline, Morelia will be missing midfielder Aldo Leao Ramirez, who will also be with the
Colombian team.
It is also important to note, that the America vs Morelia quarterfinal series appears to be the tightest contest out of the 4 series. Not only are they just separated from each other by 4 points, but they both finished the season with good results. In its last 5 matches, America won 4 and drew 1; Morelia won 3 and drew 2 (and hasn't lost since September 14th). This will definitely be an exciting series between two hated rivals.
America vs Morelia Prediction
In the first America vs Morelia leg, Morelia will jump out to a 1-0 lead thanks to a late Sabah goal and some very solid goalkeeping from Vilar for his 3rd straight shutout. However, in the second leg at the
Azteca, the Aguilas will grab 2 early first-half goals from Benitez and Jimenez and play with 11
men behind the ball in the second half to barely hold on for a 2-1 aggregate win and move on to
the semi-finals.
America vs Morelia Television
The first leg will be shown on Azteca America on Wednesday, November 14th at 10:00
PM EST.
View the America 2-0 Morelia highlights here.