View the San Luis 0-2 Toluca highlights here.
The San Luis vs Toluca match will be played this Saturday, November 2012 (10:00 PM EDT) at the Estadio Alfonso Lastras. San Luis is out of any options from qualifying into the playoffs therefore they will say good-bye and thank you to their fans Saturday night.  Meanwhile, Toluca is already qualified, but they play a serious match where a win secures them a spot in next year's Copa Libertadores 2013.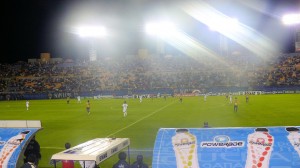 San Luis has been one of the league's worst teams from beginning to end.  They have a bad offense, a bad defense, but most importantly, a poorly talented squad.  Through sixteen games, San Luis has only obtained 15 points and lies on 15th place of the standings.  Another loss against Toluca will put them deeper into the relegation fight, therefore they will play a defensive game on Saturday night to at least end the season on a good note.
Before the last week of the season began, Toluca was in first place of the standings with 31 points, and with a seed to the playoffs.  On Saturday they do not face a strong opponent, but they do face a difficult task.  Toluca will play to secure the league's first place and for a place in the Copa Libertadores.  A win secures it, but also if Xolos of Tijuana or Club America do not win.
Prediction:  The San Luis vs Toluca match will be a difficult and tense game for the 'chorizeros'.  Toluca is excited to not only be in the playoffs as the number one seed, but also with the possibility of playing in next year's Copa Libertadores.  They have been the league's best team and for good reason, therefore the game against San Luis will add to their good results.  They will obtain the ticket to Libertadores with a 2-0 win over San Luis.
Television:  The San Luis vs Toluca mach will be this Saturday, November 10, 2012 at 10:00 PM EDT and will be televised on Univision Deportes Network.
View the San Luis 0-2 Toluca highlights here.